December 29, 2013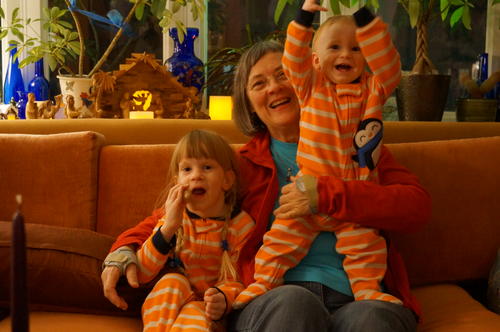 We had intended to leave town on boxing day and head for London to spend time with my Aunt, catch my family Christmas dinner in Wellesley and head back through Toronto on the 30th. But with Matthew and I both suffering mightily from the plague we stayed in bed instead. Elizabeth asked whether I was well enough to travel every single day. After a couple of days she suggested that maybe I could be sick in the car just as easily as at home. At least she didn't get as far as suggesting Daddy leave me behind!
Matthew recovered faster than I did, but by the 29th I figured I was on the mend and my daily fever of 39C seemed to have broken. So before Brendan could change his mind we hopped in the car and headed for Toronto. "Just what I've been wanting to do", said Elizabeth. By the time we arrived my fever was back for the fifth day in a row. Aunt Muriel took one look (and listen) and prescribed antibiotics.
Elizabeth was very happy to finally be visiting "her Muriel". "I'll tell you a secret" she whispered in my ear "I remember this place AND THERE IS A CUCKOO CLOCK!" Muriel gave her a wooden whistle that makes a sound like a cuckoo. So every hour Elizabeth went to the cuckoo clock to whistle along with him.
You might also like
- First day of Maternelle
(0.385057)
- Extended family Christmas
(0.377868)
- Epiphany Back to School
(0.373093)
- Roses and Thorns
(0.367801)
- #Jessdoesthemath
(0.36514)
All