January 21, 2014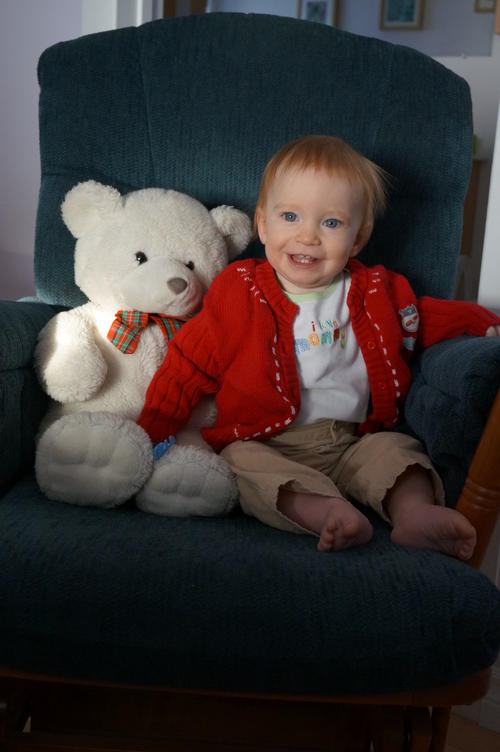 At eleven months, Matthew weighs about 18 pounds. Last well baby checkup our pediatrician (Dr Lynn Jacoby) said his weight was pretty flat and starting to fall off his curve, so we've been relieved to see it increase again. Mind you, it's hard because he is VERY busy! If he isn't crawling, he's scooting around the furniture or walking holding onto someone's hands (or legs if they don't cooperate!). He'll use chairs big and small as a makeshift walker. I've learned to keep a close eye on him after he nearly pushed his highchair followed by the Roomba vacuum down the stairs. Throwing things is a favourite activity, especially down the stairs. Elizabeth likes to toss a ball back and forth, or play "hockey" with tupperware containers and serving spoons.
We had to put away the stress balls because Matthew ate chunks out of the soft foam. All our foam letters have significant teeth marks too. He loves to knock over towers of blocks and is starting to be able to stack one object on top of another.
He's gotten much pickier about his food, but always likes his grapes, crackers and arrowroots. Other things depend on the day - when he doesn't want to eat it he'll shake his head no violently. When he's hungry he lets us know by smacking his lips. Things he likes get a "yum" noise.
He's into the pointing at things phase. Mommy thought it was the cutest thing ever, until he started waving bye bye and blowing kisses. The kisses in particular are adorable. It's a good thing because he does not sleep well. If Mommy puts him down for a nap, we are lucky to get 20 minutes around 2pm, unless she cheats and uses the car. Daddy has better luck and can sometimes get two naps around an hour. But too often Matthew doesn't nap at all and only sleeps well at night if he's in physical contact with Mom or Dad. Sigh. We are hoping this is a teething issue - he's got five and there are four more that have been "coming" for weeks.
The bath has stopped being a place of screaming. Matthew splashes instead. This is good because we bathe him many times a day. Let's just say that the elimination communication is not working as well this time round...
Matthew also likes to have stories read to him now, although he doesn't quite understand that it's hard to read if you are constantly flipping the pages and yanking on the book. But he has definite favourites, brings them over to read and points to his favourite parts. He particularly likes "Doggies" by Sandra Boynton.
Matthew is standing independently now. He goes up and down (and up and down) the stairs - it's one of his favourite activities. Daddy says he slides down at warp nine! His comfort zone without mom or dad is huge (especially after baby Elizabeth who never went further than a metre or so). Matthew is quite comfortable heading off into other rooms, often in a quest to locate his sister. Or dadadadada...
You might also like
- 20 Months Old
(0.468439)
- One!
(0.462366)
- 11 Months
(0.460683)
- 10 Months
(0.455022)
- 11 months
(0.452786)
All