January 6, 2014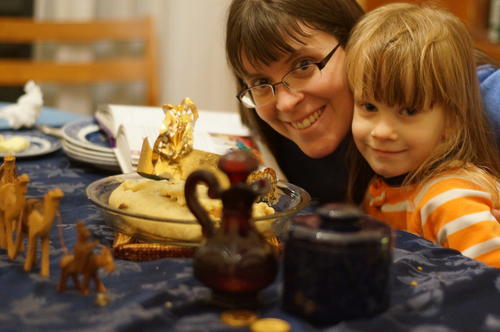 A snow day gave us an extra day of Christmas holidays with which to celebrate Epiphany.
I made a gluten free galette des rois again. My puff pastry is improving (possibly letting it sit longer helps. Hmmm. Guess I need to start making this part the day before!). I substituted sunflower for almonds in the frangipane so that Auntie Janice could have some too.
We sang "We Three Kings" and read the relevant scripture.
I was more successful at locating the token than last year, and I let Elizabeth be Queen again. She wanted to wear her crown to bed again. And to school. Neither were permitted, but she was allowed to be Breakfast Queen. And the camels and myrrh bottle hung out on our table for a few days until we could bear to put them away. We had no difficulty disposing of the "golden" coins...
1
On January 30, 2014 at 00:40 am
Grandpa H
said:
Very regal! Would the puff pastry work for Beef Wellington, or is it sweet?
2
On January 30, 2014 at 09:14 am
Mary @ Parenthood
said:
It would work! I think I may have figured out how to do vol au vent too (a couple of tries later...)
You might also like
- We three Kings
(0.38081)
- Epiphany
(0.353425)
- Snowphy Trophy
(0.340731)
- Epiphany
(0.340249)
- Snow bears
(0.337789)
All