January 31, 2014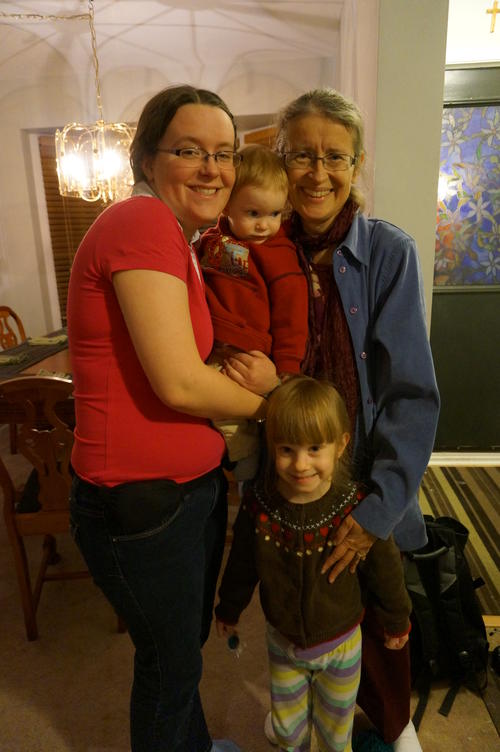 We said goodbye to my parents for three and a half years last July but mom is BACK ahead of schedule to help my grandparents with their looming transition to long term care. <Insert long rant about elder care in Canada here. Because although I don't really have a better solution to offer yet, I am not a fan of our current systems!>
Since my grandparents live in another city we aren't going to see much of Grandma unless we make the trip down to visit, but for one night kids and grandkids were thrilled to get to hug the three dimensional version of "flat" grandma. Xander didn't make it into the photos because we took most of them after he went to bed (before that he was moving too fast!)
Elizabeth had a bath at Xander's for the first time. She was very reluctant until Uncle Dave told her about the bath crayons... She wrote all the names of the kids in the tub telling me that these were "the people who are allowed to use the crayons and no one else!" I think her spelling for cousins "Zandr" and "Izbl" is ADORABLE. Speaking of adorable, Xander has started to call her "Biz".
"Flat Grandpa" woke up in Angola in the middle of the night and Skyped us - we were pretty surprised to get his call. His facebook status: "woke up, trying to be quiet so as not to disturb [Grandma] - it took a few minuets to remember she wasn't there!" Right away there was lots of teasing about the typo - "I can't figure out how you were doing those minuets without your wife.." said one friend. And that's when I learned that a minuet is not just a musical form, but also a dance. For the record, Grandpa says he doesn't dance at 3am. But his grandson Matthew does...
1
On February 2, 2014 at 01:22 pm
Grandpa H
said:
I love it! :)
You might also like
- How many weeks?
(0.395814)
- Family Day
(0.395649)
- Orchestre
(0.392416)
- Silly Sock Week
(0.390769)
- Party
(0.389268)
All