February 1, 2014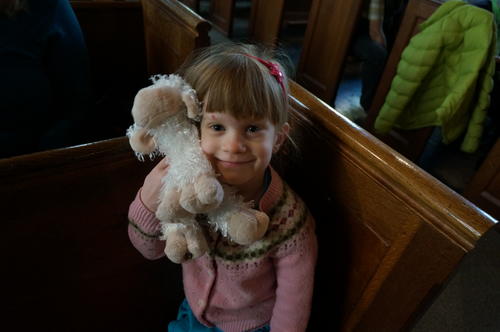 In between bidding farewell one international visitor (my mother) and saying hello to another (family friend Angie here for her annual skating holiday), Elizabeth had her first piano recital! I was nervous, but she wasn't.
Maria, Elizabeth and Xander all participated in the rhythm band at the beginning (Erika felt too grownup!) Xander was excited to go up on stage at every opportunity, including getting a chance to "play" the piano after the recital was done.
Elizabeth played "Mary had a little lamb" chosen because "she has a stuffie lamb named Mary" (given to her by Great Aunts Mary and Judy). Lamb came and sat up on the piano with her, but Elizabeth went up to the piano, played her piece more or less correctly, bowed and came and sat down again. I was particularly impressed that she kept going because usually when she makes a mistake she gets flustered and starts over.
PS Still loving Elizabeth's teachers - they do such an amazing job and work so very hard - today they had a class followed by FOUR back-to-back-to-back-to-back recitals. Wow...
After the recital Auntie Janice picked Angie up from the airport and Dave and Karen stayed for supper!
You might also like
- Mother's day karate, spring fling and recital
(0.364435)
- Camping
(0.362471)
- Butterfly Show
(0.361842)
- Music for Young Children
(0.360234)
- WKC Worlds
(0.356762)
All