February 8, 2014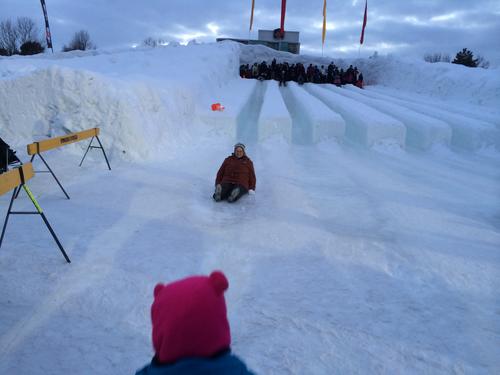 A busy day!
First Brendan and Elizabeth went to French class, while Janice and Angie headed to visit the Crystal Gardens.
Then Brendan and Elizabeth picked me up and off the three of us went to the NAC for the long anticipated performance of Peter and the Wolf. This is one of Elizabeth's favourite stories to listen to in the car! Predictably, she was MOST impressed by the wolf, though she couldn't help clutching my arm during the scary parts. She loved the duck (especially the way it waddled).
When we came home, we picked up Angie and Matthew and headed to the sno bus stop. The plan was to go visit the Snowflake Kingdom (ICE SLIDES!!!) but when we got there, we realized that we would get stranded in Quebec with no way home because the interprovincial portion of the snobus stops running before the rest of the bus routes. Of course they had listed the later time on their website - grr!
In any case, Daddy selflessly decided to stay home and promised to come and rescue us in the car. He had a little basement project he wanted to work on in any case...
We had a great time going down the slides - Angie and I took it in turns to stand in line with Elizabeth or hold Matthew at the bottom. We went kicksledding and discovered that Elizabeth is strong enough to push the sled around by herself now! Elizabeth got to sit in a bobsled from the Vancouver Olympics. She was much less impressed than I was about this.
You might also like
- Winterlude
(0.391846)
- Family Day
(0.391405)
- Virtual School: Week 34
(0.390346)
- Missed the bus, Concussion, Matthew gets a stripe
(0.389463)
- Crystal Gardens
(0.385333)
All