February 15, 2014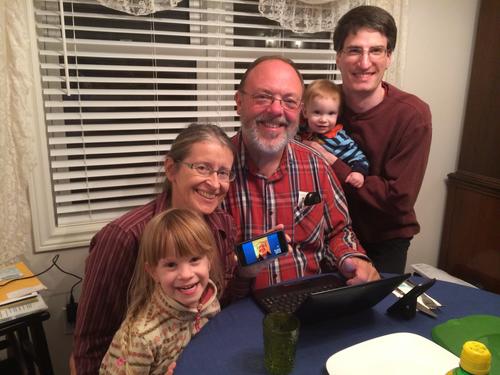 My dad flew from Angola to Canada to surprise my mom for Valentine's day so of course we had to make the trip to Southern Ontario to see them!
Wanting to eat somewhere other than Swiss Chalet in an attempt to prove to our children that other restaurants DO exist, we stopped at East Side Mario's for lunch. Cue ominous music... Turns out that East Side Mario's has a gluten free menu, but if your perky waitress asks: "Soup or salad?" you should check whether the soups in question are on said menu (they aren't). I know better, so was annoyed with myself when my dinner ended up on the side of the road shortly after resuming our trip. (I should add that the restaurant apologized and sent me a gift certificate afterwards. They also allegedly improved their training!)
But it wasn't quite the triumphant family reunion I had hoped for when I arrived, still shaky and throwing up... Luckily it passed quickly for once! And Matthew discovered how to drink from a straw while at the restaurant, so it wasn't a total loss...
1
On April 6, 2014 at 03:38 pm
Jess
said:
Remember when we went to Stratford in Grade 9 and ate at East Side Mario's? We were convinced it was a Mexican restaurant for some reason...
You might also like
- Number 3
(0.346375)
- Messiah rehearsal, Santa parade
(0.337079)
- Cottage Arrival 2019
(0.330827)
- Wedding prep
(0.329427)
- Valentines
(0.327707)
All