February 24, 2014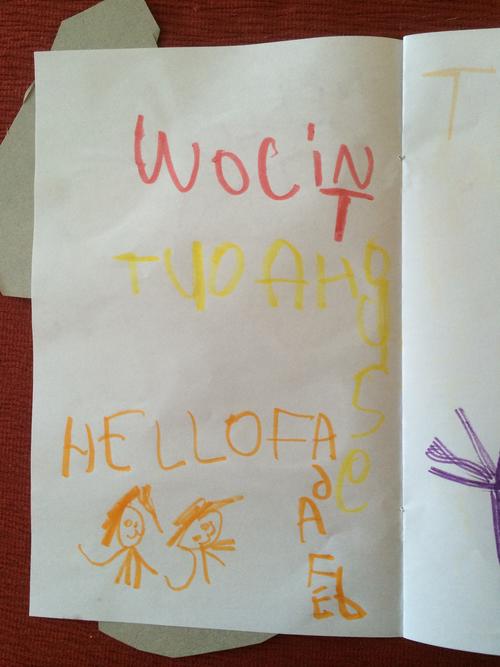 Elizabeth wrote and illustrated another book. "Will you put it on MY blog?" she asked.
She needs to work on her plot development, but given that she refused all offers of help (including spelling), I was quite impressed by the result.
We were fascinated by some of the phonetics - she has a tendency to leave out letters "fed" instead of "friend". "ekuz" is exactly how she says it...

"Walking in the house Hello Kitty found a friend.
The friend played in the sandbox.
Hello Kitty loved the book to read.
Mama laughed you Hello Kitty visitor.
I love you Mom because I have a friend.
Dad I love you because I have a visitor.
The end. Hello Kitty."
1
On April 12, 2014 at 12:35 pm
Grandpa H
said:
Perhaps she has discovered the future of orthography... :)
2
On April 12, 2014 at 05:29 pm
Grandma H.
said:
You really have to keep this! I love it!
You might also like
- Acro viewing week
(0.307536)
- The Cat
(0.305512)
- It's for you
(0.305317)
- First Letter
(0.303534)
- Swimming
(0.301587)
All