April 14, 2014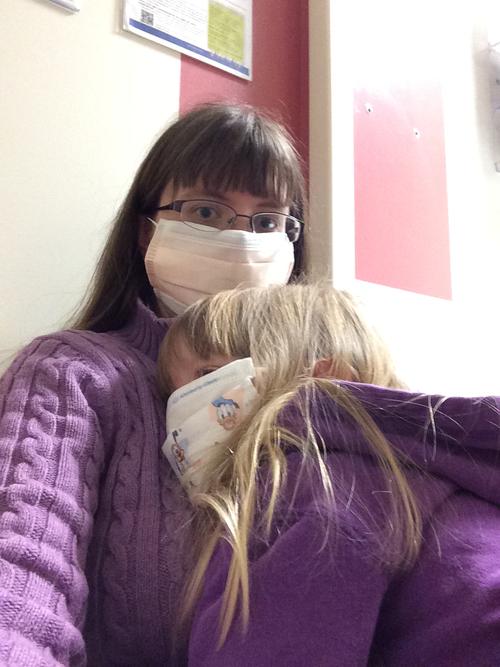 It started in the wee hours of April 12th. Friday evening Elizabeth was a little subdued but well enough to go to the neighbour's for movie night. Very early Saturday morning she woke up screaming with a sore throat.
She lay in bed whimpering all day missing her swimming class followed by her very first ballet class that she'd been looking forward to for weeks. She put off deciding not to go to ballet until the very last minute (and that's when we knew she was really feeling pretty awful). Shortly thereafter I noticed a bit of a rash on her back, but of course her doctor was closed by then. We decided we'd go to the doctor in the morning. Beloved Dr Lynn is on leave so we had to brave the replacement (boo!)

April 13.
10 am Pediatrician tells us she can't tell whether scarlet fever or measles. She'd like us to go to CHEO for blood tests just in case. She prints out complete notes of her examination for CHEO.
11 am CHEO has big sign stating that measly kids should go to a special door. They promptly send us to isolation. They tell me they don't need the information my pediatrician printed out.

11:30am I used the isolation bathroom. Can't decide whether hanging here is less scary because we are not being exposed to who knows what in waiting room, or more scary because who knows if they cleaned up properly after last deadly ill kid

11:40am Elizabeth is back to whimpering. She communicates only by moving her head; throat too sore.

11:45am Someone just checked on us: opened big door because they didn't see us and were worried that we'd left the room. Didn't have chance to ask for water but Elizabeth and I are parched.

Noon Apparently door not staying locked properly so people keep coming and rattling it. Me: we're locked in?! They did bring me some water...

April 14
ER Doc called and although strep hasn't been confirmed, the preliminary results suggest it. He's given the go ahead to start antibiotics. He figures Elizabeth can go back to school after 24 hours on antibiotics. Elizabeth spends the whole day in bed, eyes closed and whimpering.

April 15
There's hope...

We were still contemplating a return to CHEO around noon because zero improvement and still not eating or drinking unless forced by mean mom. Started threatening her with needles for rehydration if didn't have a sip (she hates needles, we were beside ourselves what can I say). Last night she looked at me tiredly and said she would rather have a needle after all than drink anything. But wanted to wait until morning by which time she was willing to take the occasional sip. But still wouldn't eat anything, not even chocolate mousse or M&Ms (so we knew she was feeling awful)

Still obviously dehydrated and getting worse but then antibiotics must have started to kick in and on the advice of the nice emerg nurse I spoke to at lunch I insisted she have Advil and Tylenol which further perked her up. I brought up lunch in her baby tea set and she drank a thimbleful of "tea" at a time and ate teeny tiny sandwiches off her teeny tiny plate. Then perked up a little more and got dressed (yay!) and coloured a picture for her best friend (cute!) and ate dinner downstairs. Then collapsed exhausted but hopefully she is actually on the mend now. The lab confirmed strep. Haven't heard about measles yet but I presume it is pretty unlikely she'd have both measles and strep... ER nurse requests we keep Elizabeth home until 48 hours after start of antibiotics.
April 16
We are about to finish off the latest bottle of Tylenol. Mild fever today and holy nosebleeds. Would like everyone to just not be sick anymore (whine whine). At least spring is scheduled to come back tomorrow :)
April 17th
Sent Elizabeth to school in the morning as it had been 48 hours and she REALLY wanted to go. Around noon, Ottawa Public Health calls to check on Elizabeth. Apparently we have been placed under "home isolation" pending the results of the measles test and they are HORRIFIED that we sent her to school. Also they wish to chastise us for failing to register Elizabeth's immunizations as per our legal obligations. Never mind that no one mentioned this was a thing (or that it would make WAY more sense for the doctor's office to keep that updated, since they supposedly know exactly what immunization they are giving). I ask why on earth the measles test is taking so long to come back. Apparently they have to send it to Toronto. Because Ottawa doesn't have the capability to do measles tests, even though we are CURRENTLY having a measles outbreak (not us!) I become convinced that if there is ever a real pandemic in Ottawa, we are all going to die.
While I am literally on the phone with public health, the teacher calls to say that Elizabeth is exhausted and having a nose bleed and they think we'd better come and get her. Elizabeth cries all the way home (she didn't want to leave). I get Elizabeth and settle her in for a nap. I also try to update Elizabeth's immunizations with Ottawa Public Health, but have to give up because the website has multiple possible matches for the tetanus, polio and diphtheria vaccines she received as a baby and the yellow card we got five years ago just has check boxes. In short, it's impossible to fill in without specialized knowledge. I call them back for instructions. The woman I speak to insists I have to get them to fill it out - if I fill it out online they will just have to start over again anyway, so it's actually more work (true story). She doesn't know why it is their policy to encourage parents to go to the website first.
The good news is that our measles test FINALLY comes back and it is negative, as expected. So Ottawa Public Health lifts what must be the shortest home isolation request ever after only a few hours.
You might also like
- Great Grandma Funeral
(0.48744)
- Back to (virtual) school
(0.484969)
- The Tree Story
(0.482549)
- H1N1 Rock Concert
(0.478129)
- Homeschool wk may 11-15
(0.47535)
All