July 18, 2009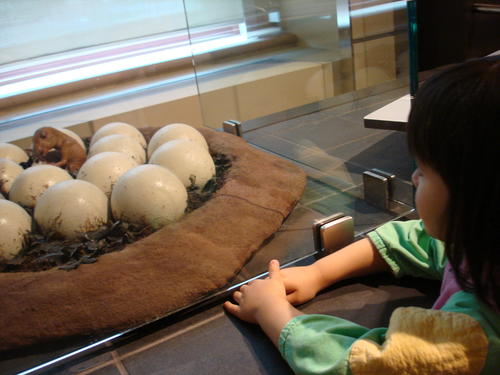 Cousin Erika, Elizabeth and I went to the Museum of Nature today (it's free as long as you enter before noon on Saturdays!) I think Elizabeth was a bit bemused by the dinosaurs, but we had a great time. I think Elizabeth's favourite part was the mammal dressup area. She got to chew on the bear costume! As usual, Erika especially enjoyed the bird sanctuary play area. Really that part of the museum should come with a warning "do not visit if you are in a hurry". Having been here before I knew what to expect but more than one parent resorted to hiding the one and only and therefore highly coveted egg and then brightly telling their child that it had hatched and therefore it was really time to go now...
On our way back, I asked three year old Erika if she was hungry. Since it was after two o'clock I expected her to agree enthusiastically, but instead she told me that her tummy hurt a little bit. "Oh?" I enquired. After no further information was forthcoming, I ventured to ask for more details. "I have a cut on my tummy", she replied. "Good grief. It hurts." "Oh dear" I said. "How did you get a cut on your tummy?". "Well" she said matter of factly, "My baby was sideways so they had to cut my tummy to get the baby out".
I was able to contain my laughter, but only barely...
You might also like
- Party Day
(0.38985)
- Snow bears
(0.359952)
- London
(0.359853)
- The birds and the bees
(0.3539)
- Angie 2015
(0.353642)
All