April 19, 2014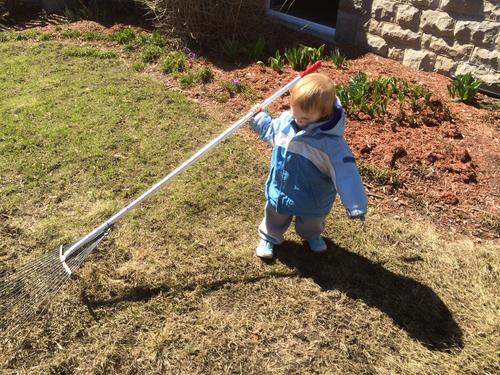 I'm slowly getting the garden ready to plant. Matthew was fascinated by the rake and wanted to help. Eventually we compromised. I let him "rake" for a few minutes and then Mommy had a turn. I am amazed by how strong this little person is!
Today we went to the park for the first time in a while and it was warm enough that I let Elizabeth take her shoes off. She's decided she's ready to let winter go and have some summer. Apparently the idea of not needing a coat or boots is very exciting.
You might also like
- Waterskiing, fish and clams
(0.341414)
- Xander
(0.340265)
- First Swing
(0.339378)
- First meal outside of the season!
(0.335526)
- First snow 2015
(0.334043)
All