May 18, 2014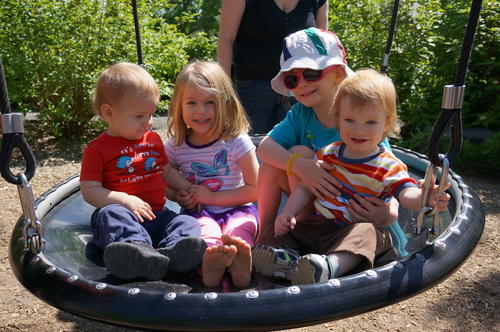 Brendan's version:
"It was nice to just chill and watch the kids play."

Elizabeth's version:
"We went to Boston and we watched Frozen and I got to play with Nora and she let me write in her book! I liked the zipline and all the playgrounds were my favourites."
Matthew's version (when asked if he wanted to go back to Boston):
"Uh uh. (pause) Eeeeeeessee (with emphatic signing for please)"
My version: "The kids are still better travellers than their parents, though Elizabeth did wonder out loud whether we were there yet well before Montreal. It was supposed to rain the whole weekend but the weather was beautiful.
It's still adorable watching the kids interact. Elizabeth got to "sleepover" in Nora's room. By the last night they moved their beds together so they could be closer. We went to the science museum again (and got in free thanks to reciprocal rights with our own museum membership!) We got to check out some of Nora and Simon's favourite parks - Ottawa might need to step up its game... The kids were well behaved enough that we braved multiple restaurants and a gluten-free bakery. Elizabeth missed Nora badly the first few days until she had a 'great idea'. Now she's planning our next trip."
You might also like
- Fireworks
(0.373692)
- Angie 2015
(0.369973)
- Spartan Mud Race
(0.367261)
- End of an Era
(0.362894)
- Matthew's first skating class
(0.36078)
All