May 29, 2014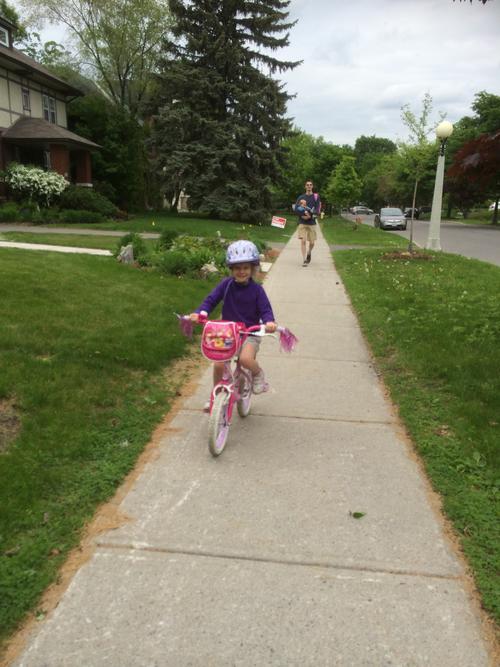 Elizabeth was pretty excited to drag her bicycle out of the garage shortly after plasma car made its first appearance this spring. I noted last September that she was able to ride her bike by herself and shortly thereafter she was even convinced to give Xander her dearly beloved balance bike.
She was devastated to discover that she had FORGOTTEN how to ride it over the winter. Mommy and Daddy were very surprised!
It wasn't just that she forgot how to get on and off - she seemed to completely lose her balance. Total panic. She decided she needed her balance bike back and refused to ride poor pedal bike. We did not go out and get a new balance bike, but we also didn't push too hard to try again because she was so anti-bike (heartbreaking given how much she loved it in the fall). Maybe some time would help, we thought. But when she decided she was going to sell her bike at the Great Glebe Garage sale we decided enough was enough. So we made her bike to church. (Well, okay, we drove part of the way - just in case we needed a plan B) There were tears and temper but by the time we got to church she had remembered how to ride and how to stop. A few more sessions and she remembered how to start again as well.
You might also like
- Water Baby
(0.394737)
- Balance Bike
(0.3794)
- Pregnancy Announcement
(0.375804)
- First time skating on the canal
(0.373806)
- Capital of extremes
(0.373708)
All