June 15, 2014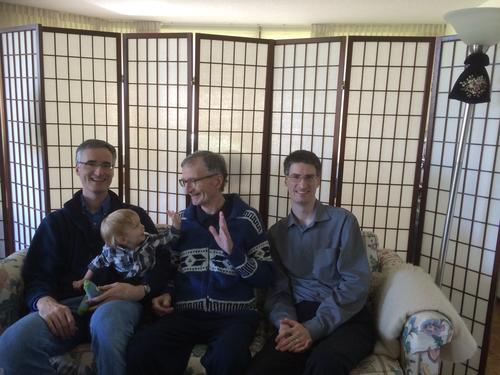 I could start this year's Father's day post by simply repeating what I said last year...
"Father's day opened with breakfast in bed (Daddy got to sleep in!) After church we headed to Grandma and Grandpa J's for palatschinken and marillenknoedel."
Except that I don't think Daddy got attacked by his children last year with quite the same ...vim. Elizabeth had secret surprises from school that she was very keen to give him. I finally got around to making Grandpa Christian's Christmas present. Daddy got a matching one for Father's day. I had thought about making a whole bunch of shirts at the same time but turns out two is my limit given my children's current ...enthusiasm.
Matthew really liked the chocolate palatchinken. So did his shirt. And pants. And every surface nearby. We forgot a change of clothes, so he spent the rest of the afternoon running around in just a diaper.
We celebrated Uncle Chris' birthday too with a sachertorte immediately afterwards. I don't think anyone ate much supper!
1
On July 19, 2014 at 07:24 am
Grandpa H
said:
Child/grandchild t-shirts are so cool! :)
You might also like
- Party day
(0.364221)
- Christmas
(0.358124)
- End of an Era
(0.352871)
- Boxing Day
(0.352538)
- Orange swimsuit please
(0.352)
All