June 12, 2014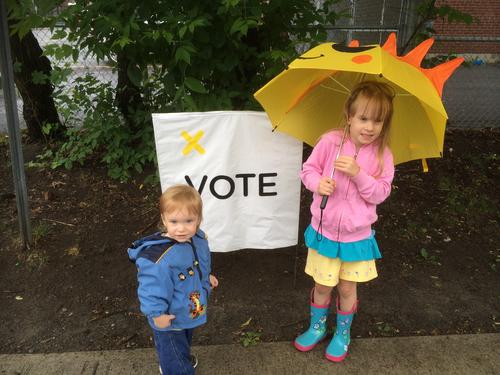 Brendan and I feel strongly that it is important to vote. We hope to pass this on to our children and have brought them with us to every single voting opportunity - municipal, provincial and federal. In the next year it looks like we get to do all three, and first up was the Ontario provincial election.
Elizabeth was interested in knowing how Mom and Dad make up our minds about who to vote for (though she really felt that HER name should be on the ballot... eep) I explained that we listened to the promises each candidate made and then decided. Figuring that she'd be most interested and able to understand those promises relating to education, I read her a few.
She didn't think much of the idea to cut kindergarden class ratios from 2:26 to 1:20. (We didn't think much of that idea either!) But I was surprised that she wasn't interested in the promise of adding an extra hour of physical activity. "I like the amount of 'recrée' [recess] I get NOW" she said firmly. "If I had more then I wouldn't have enough time for 'do-do' [naptime]"
You might also like
- Voting Day again
(0.386085)
- Virtual School: Week 18
(0.362595)
- 12 Days of Christmas: New Year's Eve
(0.360303)
- Cottage Days: Santa's Village
(0.360045)
- First day of school
(0.36)
All