June 20, 2014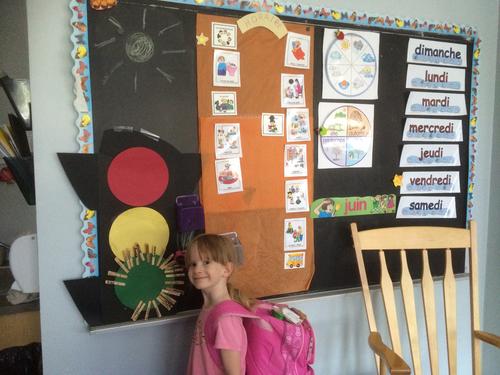 Last day of school was a field trip to the local park. 60+ over excited 4-6 year olds romped in the water (whether they had swimsuits or not!), played on the playstructures and dug in the sand. There was watermelon. There were freezies. It was a perfect end to a great year.
Elizabeth's teacher Mme Francine (pictured with Elizabeth and Adi) and early childhood educator Mme Josee were wonderful right up to the last minute - wrangling the kids into and out of swimsuits and managing the porta-potty parade etc etc and all with a smile on their face. They clearly love what they do and have set a tough act to follow for next year!
Next year the kids are all going to be in a split jk/sk class so there will be lots of new kids to get to know (and the jk teachers have all moved to different schools for various reasons so we don't know any of the potential teachers... Eek!). But given that Elizabeth managed to maintain friendships with a good number of her Jeu d'ecole classmates despite not being in their class, I'm not too worried. I do hope that she and Adi stay together though because new class + new teacher + new classmates + no Adi would make for a rougher than necessary transition.
You might also like
- Christmas Village
(0.371505)
- Last day of Kindergarten
(0.370455)
- Senior Kindergarden
(0.369779)
- First day of school
(0.364312)
- Skating
(0.363743)
All