June 11, 2014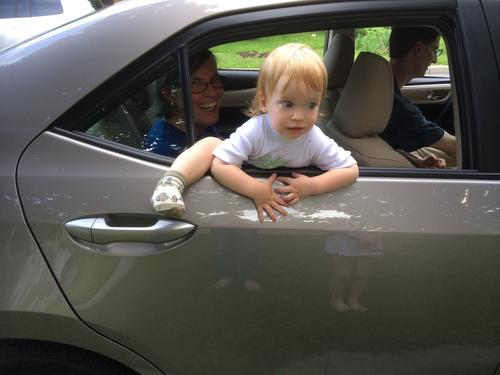 At sixteen months everything is a challenge to be climbed. When I was a kid, I remember climbing on top of our fridge or my wardrobe so I could scare my mother. At the time I thought it was funny. Now I think an apology might be in order. He can climb onto our bed. He can climb into Elizabeth's top bunk of her bed. He can climb up and reach the stovetop. Basically nothing is safe anymore...
One compensation is that Matthew has started napping again, especially if we put him into the car at a strategic time... Perhaps this is partly because he isn't sleeping all that well at night. He's been growing all the rest of his teeth (four at a time really shouldn't be allowed). It's pretty sad - he signs hurt, hurt, hurt while pointing at his mouth. Then "all done". It got bad enough that he stopped eating for a few days - even turned down chocolate (!)
He is definitely not a breakfast person. We struggle to get him to eat anything in the morning, though he sometimes will eat grapes, bananas, rice or corn on the cob. What? You don't feed YOUR kids corn on the cob for breakfast?
Actually in general he seems to be getting pickier but then from time to time - surprise! he suddenly eats a previously rejected food. He loves his nori and eats meat and fish quite reliably along with rice and many vegetables. Loves chocolate too - but won't even taste many things that look "different" so even something chocolate might get rejected. He hates ice cream (is this my kid?!) because it is too cold. He doesn't even like chocolate mousse (texture?)
He's getting more into pretend play. A favourite game is "bedtime". He will read you a story and cover you up with the blanket. It takes a very long time to get the blanket arranged to his satisfaction!
His favourite toy is a pretend drill - he especially likes to take apart the air conditioning vent and pretend to "fix" it. He likes to take it for walks in the little pink stroller - partly because Elizabeth does NOT trust him with babies or animals. I gather he dumped the stroller one too many times...

1
On July 19, 2014 at 07:12 am
Grandpa H
said:
Adorable. I love that he likes power tools already :)
You might also like
- Amelia is 4
(0.429418)
- Michael turns 2.5
(0.423408)
- One!
(0.422135)
- 10 Months
(0.419293)
- 11 months
(0.418896)
All