June 27, 2014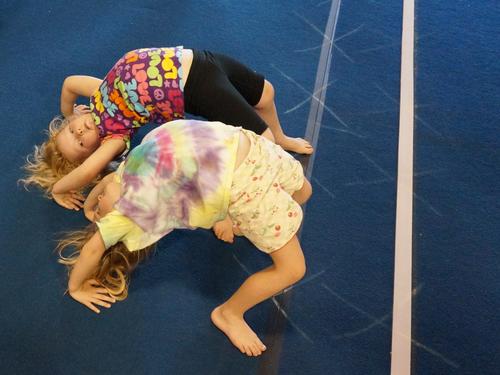 Adi asked whether Elizabeth might like to do Olympics-themed gymnastics camp with her this week. It sounded like fun, so we signed her up.
I was a little surprised to hear that her camp counsellor was named "Gargle" - even for a camp name that seemed unusual (I think it was actually Galaga). We were not surprised that Elizabeth loved the camp - Adi was there after all and there was a trampoline. Every day she came home and insisted on demonstrating a new skill. Her favourite move was called the "teddy bear", though it looked more like a pretzel to the untrained eye ;) There were at least five kids from maternelle level at her school, most of whom she knew quite well.
We appreciated that it wasn't just confined to the gym. They weren't able to go swimming at the RA centre due to bad weather (outdoor pool) but they went to the park / splash pad later in the week where they tie-dyed shirts. Elizabeth used all the colours.
Mid-way through the week, Elizabeth asked how many days were left. I told her three. "THREE?" she said in dismay. "But I went to school for lots more days than that, why is gymnastics so short???"
On the last day we were invited to watch a little gymnastics routine the kids had been working on all week. It was pretty cute. Some of the kids were obviously better at certain skills than others but we thought the staff did an amazing job of working around that. I think it's safe to say there will be more gymnastics photos in our future...

You might also like
- Party
(0.382508)
- Family Day
(0.375121)
- Camp Otonabee
(0.3733)
- Angie 2015
(0.372093)
- Three under three
(0.371393)
All