July 8, 2014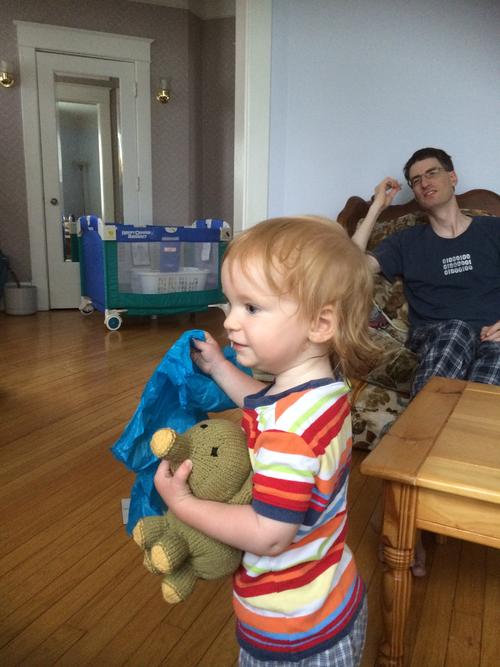 Friend Janice (as she's known around here - as opposed to Auntie Janice) is very, very crafty. I often joke that I have the fanciest dish cloths in the world because of her - she's knitted me ones with hearts, Canadian provinces and many, many different kinds of frogs. I love them.
So we already knew she was a super talented knitter. But she's outdone herself with Matthew's first "stuffie" of note. Meet Elephant. Matthew and Elephant have a complicated relationship, but it's the first thing he looks for in the morning (after Mommy). He tucks it in tenderly at night, complete with book and kisses. It's adorable. Elizabeth thinks we should "call him Emma".
Elizabeth didn't get left out though. She got a pair of Hello Kitty pjs which were immediately dubbed "the magic pajamas". Apparently they help her sleep all night...
You might also like
- Halloween karate
(0.358779)
- Piano Recital
(0.357654)
- A visit from friend Janice
(0.352049)
- 12 Days of Christmas: New Year's Eve
(0.350649)
- Recital, Home Depot, movie night
(0.350515)
All