July 26, 2014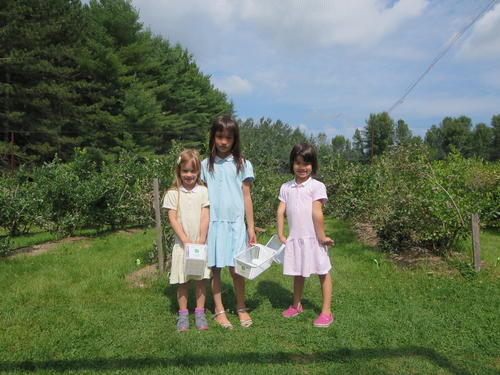 Elizabeth had her first sleepover without Mom and Dad. We survived! She had a good time! They all went blueberry picking and they got to stop at the St Albert's ice cream store (I gather a big hit). We did pick her up again slightly too late and by the time we got her to bed she was crying about how tired she was. Apparently Erika didn't "let her have a nap" and they went to bed "too late when she's still just a little kid". "Tomorrow, Mommy, I am going to have a nap AND I am going to go to bed at one o'clock", she declared. I struggled to keep a straight face, as you might imagine. We didn't hold her to the 1pm bedtime, although it was tempting... By the next day we were hearing all about how she got to stay up late and sleep in a tent in the backyard with Erika and could she go for another sleepover soon pretty please Momma? Much thanks to Uncle Chris and Auntie Yukiko for having her and taking pictures!
While Elizabeth was off gallivanting, we were having our own adventures. Daddy and Matthew went to help Uncle Dave lay a new stone walkway. Auntie Karen watched the three under three, who really wanted to supervise the Daddies a little closer than they were allowed...
I got to go to the spa with friend Janice... Le Nordik is supposedly the largest spa in North America and I cannot believe it took me so long to go here! I really enjoyed myself. There are all kinds of saunas and hot tubs to relax in for a few minutes, cold waterfalls to tighten your pores and then in-between places to lounge. We indulged in the pool that is supposed to have the same salinity as the Dead Sea (probably the closest I will ever get). It was dimly lit with changing coloured lights. I regretted having shaved that morning (somehow missed seeing the provided earplugs, shower caps and salve for cuts on the way down). But once I got comfortable and relaxed in the water it was as if I was the only person in the world. It was very nice to have a day to catch up and just relax.
You might also like
- Family Day
(0.415296)
- Erika and Maria
(0.408411)
- Halloween
(0.40614)
- Sister Act
(0.40492)
- Mary Day
(0.402609)
All