August 2, 2009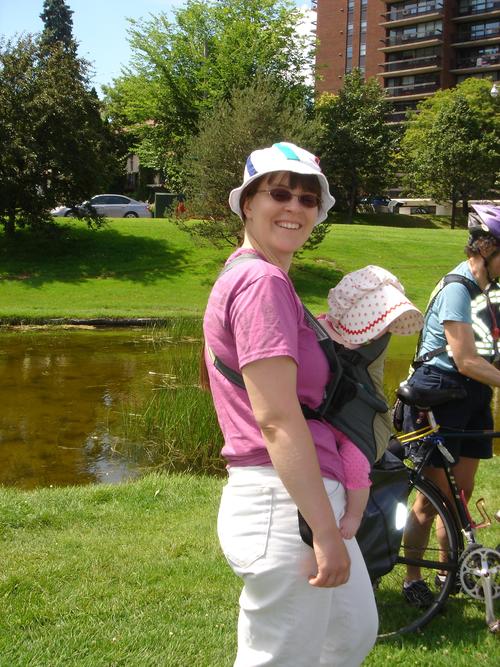 While Grandpa H and Brendan worked hard building us a snazzy new fence, Elizabeth, Grandma H, Aidan, Aidan's parents Dianne and David and I participated in part of the Musical Breeze Parade on Saturday.
A joint program between Chamberfest and the Rideau Canal Festival, we walked in between hundreds of cyclists riding both normal and more unusual vehicles. Some were on unicycles, some on tandem bicycles and one guy even brought his penny-farthing! The route went from Landsdown to the old city hall, with three mini-concert stops along the way.
We only went as far as the first mini concert - but what a concert it was! Jesse Stewart specializes in percussion, especially in found objects. He's apparently the inspiration behind the balloon orchestra from Carleton University. He played the drums, waterphone and the canoe paddles, before shooing us on our way. We dawdled a bit and also got to hear him on the salad bowls. This meant that the bicyclists left us in the dust and we basically missed our chance to hear any more of the parade but I think it was worth it!
He also explained how we could build our very own salad bowl instrument at home.
Step 1: Fill the bathtub
Step 2: Add various sized wooden salad bowls (he recommended Value Village as a source of inexpensive wooden bowls)
Step 3: Put them into the water upside down (they capture a pocket of air)
Step 4: Hit the salad bowls to make beautiful music
UPDATE: Dianne very kindly allowed me to post her pictures (I forgot my camera)! Enjoy!
You might also like
- Musical Breeze
(0.402742)
- Winterlude 2010 Crystal Gardens
(0.390483)
- Winter Wonderland
(0.368557)
- Colonel By Day
(0.362855)
- A shower and the Great Glebe Garage Sale!
(0.361014)
All