September 18, 2014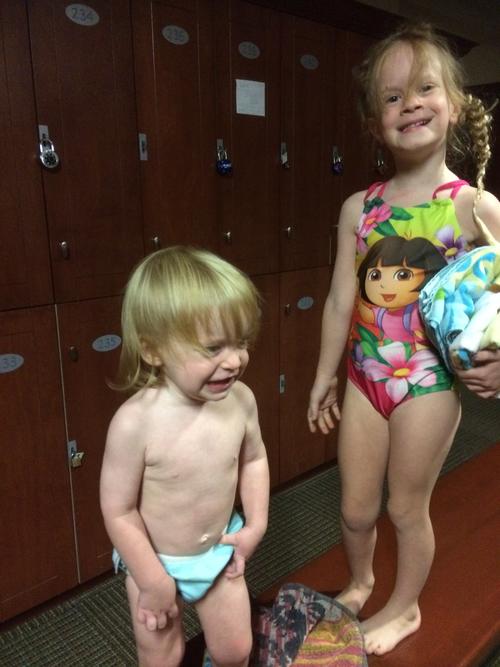 Our neighbours highly recommended the OAC for swimming lessons, so we decided to try them out. Elizabeth took Preschool A/1 from Dovercourt or Sea Turtles (City of Ottawa Red Cross program) four times and it was looking like Preschool B/2 was going to take even longer. She was despondent that her best friend can actually swim ("even though I'M OLDER!")
Five private lessons at the OAC later, not only do I not have to deal with chlorine every week since it's a salt water pool, but Elizabeth's almost done Swim Kids 1.
Matthew's doing lessons too because it's actually cheaper than the outrageous "drop-in" fees for us to just hang out in the pool during the lesson and we thought easier than keeping him out. It's interesting because they don't bother with toys, games or songs. The pool is cold. The location is inconvenient for us. The fees are rather expensive. But it is working and the kids are loving it. Go figure. And at least there is a hot tub for me to warm up in afterwards ;)
1
On October 28, 2014 at 02:52 pm
Grandpa H
said:
That particular photo doesn't reveal that Matthew is loving it... ;)
2
On October 28, 2014 at 10:10 pm
Mary
said:
Hah! He's actually making a cheese face. He was pointing and giggling at a lady changing close to us before the photo (luckily she was charmed) and seconds later the two of them charged off to the pool. He does look a bit unhappy in the photo, but I assure you that he was practically levitating. Unlike last week, when he was whining because Elizabeth wouldn't let him peek at her while she was going pee. And Elizabeth was wailing because she pinched her fingers not once but TWICE in the bathroom door because she was so worried I might let Matthew peek under the bathroom stall she didn't pay attention to the location of her fingers while slamming the door behind her. At least I didn't laugh... Out loud...
3
On November 12, 2014 at 01:12 pm
Grandpa H
said:
Hilarious sibling bathroom rivalry! It may get worse before it gets better, but I'm sure will get better before it gets serious.
You might also like
- Dovercourt
(0.39267)
- Triathlon
(0.382436)
- Ollie Otter goes swimming
(0.372928)
- Olympic skater
(0.370149)
- Cottage Days: Support boat
(0.36445)
All