September 17, 2014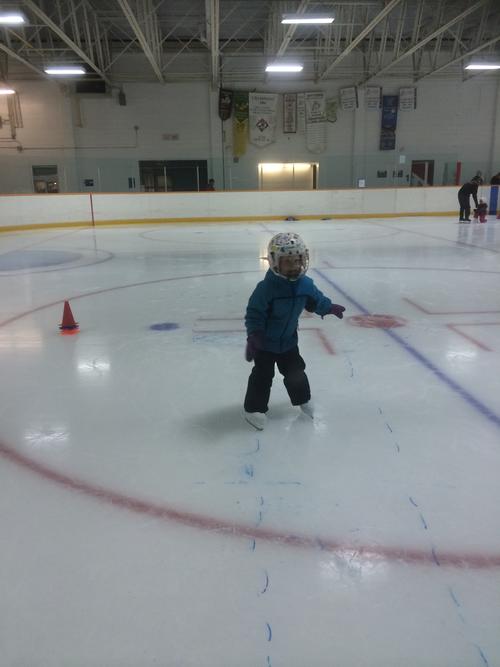 We're back in the routine of skating. It only took about forty minutes for Elizabeth to shake the awkward haven't been on skates all summer feeling and start zipping around the ice. She completed kinderglider 4 last time. We figure she's got all the kinderglider 5 skills down cold, except maybe the t-push. Not quite sure what she'll be working on during the second half of the class but she's signed up for a more advanced class in the winter picked by friend Adi.
We tried out low ratio classes for the preseason and fall sessions. Unfortunately the only other kid in her class is not nearly at the same level she is (couldn't glide!), but after we complained the head coach took her under his wing a bit. She's still very right footed, but boy is she getting fast. Her stops are getting pretty amazing - Brendan reckons she's better at stopping than he is now.
Skating is definitely one of Elizabeth's favourite parts of the week. Matthew is less keen, mostly because he desperately wants to skate too. He pats his head constantly (I want a helmet too!) and points on the ice. Playing with Daddy is an okay substitute, even if he insists on holding him instead of letting him explore unfettered. Strangely, we think toddlers running around the concrete arena isn't a great idea...
1
On October 28, 2014 at 02:53 pm
Grandpa H
said:
It's very unfair that E is allowed to skate and M isn't. I think you should put him on skates too. Then we will find out how fast Daddy really is...
You might also like
- Matthew's first skating class
(0.407767)
- Skating
(0.402326)
- Skating
(0.394077)
- Skating
(0.393041)
- Piano Recital
(0.390402)
All