August 19, 2014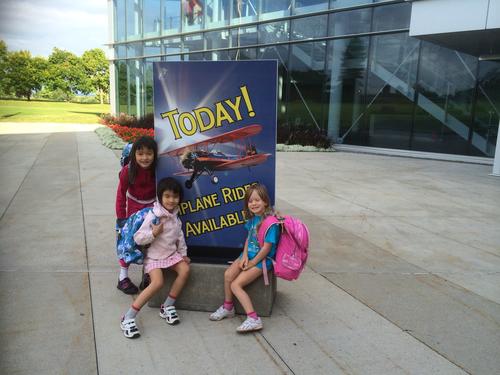 Erika, Maria and Elizabeth had a week of Aviation and Music camp run by Sonart at the Aviation and Space museum this summer.
Here is their report:
Day 1
Elizabeth: "We had a tour of the museum. Me and Maria found everything but the boys didn't find the smoke. Remember the airplane you can go on? I went on that with Maria. Basically, like this is actually quite true. I went around to a different room and through the funny curtain and the teacher gave us rules. That was the first part I did that day. And I had snacks and stuff. I played on the playstructure with my friends. And like we made a sand castle. Like we built it really high. Yeah. Io liked our classroom. I liked playing the violin. I can actually play really fast and can play so much songs.

I saw Auntie Janice twice and she waved!

When mommy picked us up I was surprised to see Isabelle and Xander and I liked playing on the playstructure again!"

Day 2
Elizabeth: "We went on the airplane. We couldn't see cars or people because it was too high. We could see trees and the lake and the canal. Erika and I got to sit in the front. The pilot sat in back and he had chains to help him move the pedals. The airplane had no roof! The wind was blowing my hair!

We made airplanes today too. Mine has a stabilizer and it can change to waterskis. It has a part in case of fire to spray water."

Day 3 (We had a sleepover too, hence the photos in pjs. And Auntie Janice drove them to the museum!)
Elizabeth: "I made a sculpture out of lollipops with marshmallows. They were so gooey but you can't eat them because they were bad. That's why we could make a structure."
Maria: "I played the drums and I was soooo cooool. They went badda badda boom. And I learned how to skate on the floor"
Erika: "First of all we made marshmallow things.
Then we dressed up like astronauts. We had NASA hats and felt helmets.
Elizabeth: "We went into the space part of the museum. We saw a space toilet and Auntie Janice. I let her borrow my headband. Everyone laughed."
Erika: "We each gave her a high five. We saw a big globe and a handprint that if you pressed on it, it told you about the astronaut."
Elizabeth: "My favourite astronaut is Chris Hadfield!"
Erika (witheringly): "EVERYONE's favourite astronaut is Chris Hadfield. Elizabeth and Maria went in a toy spaceship. And we had music class."

Day 4
Elizabeth: "Today we did music outside because we couldn't inside."
Erika: "We found "Buggy". He's a cicada who isn't feeling well."
Elizabeth: "My best thing was doing the obstacle course. We went through the things and the tunnels and we got the airplane and We went under the cloud."
Maria: "They were balloons."
Elizabeth: "They were called a cloud."
Maria: "...but they WERE balloons. "
Erika: "anyway there were lots of pictures in the cloud. After that there were balls that you could slingshot on a sticky board. All of us got 2000 slam points. These are points that you have to get for the ceremony at the end. There are invisible slam points too. They know you have them but you don't."

Last day:
Maria: "it was AWESOME."
Elizabeth: "We saw the ejection seat demo. Ohhhh mama do you know me and Erika and Maria got lots of slam points and no one else. They were good because that means the teachers were happy with you. And we got to watch planes. It was super awesome. Didn't we do a great show?"
Erika: "My favourite part of the camp was the airplane ride!"
Elizabeth: "I'm going to come again next year!"

1
On September 26, 2014 at 02:59 am
Grandma H.
said:
Sounds like a great experience!
You might also like
- Farm Camp
(0.435424)
- Homeschool wk may 11-15
(0.408784)
- At Mary's
(0.407579)
- Museum of Nature
(0.406648)
- Farm Camp
(0.406321)
All