August 24, 2014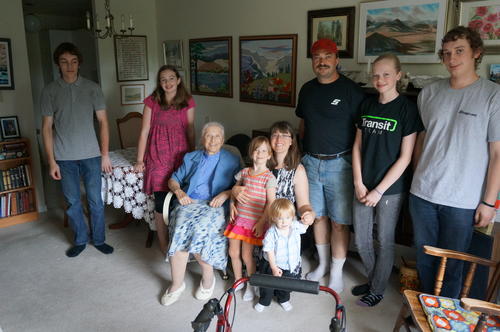 We headed to London, Ontario immediately after camp in order to squeeze in a little trip before back-to-school. I think I've mentioned that Brendan and I are not big fans of travelling (time for a teleportation device!). But the kids seem to be pretty good in the car. I switched up the toys for this trip and we drove all the way without stopping other than for lunch!
We'd tried to visit London at Christmas to visit my Aunt Maybeth and Great Aunt Vera, but we all had the plague. Now my cousin Phil and his wife Merilee were home from Chad (Phil's a pilot with MAF), with their girls. Kaitlyn and Lily visited us in Ottawa in 2012 and we hoped we could connect again especially since they just had another baby girl - Evelinne!
We went to church with Auntie Maybeth in the morning and then hung out at a pretty cool park for a while. Elizabeth and Matthew approved, especially of the giant spinning climbing web. Then we went to a restaurant for lunch (Swiss Chalet, of course, to Elizabeth's great delight). After lunch, a visit with Great Aunt Vera.
We were thrilled to also be able to connect with my cousin Arno (once removed? I lose track after a while) and his kids - I don't think I've actually met them all aside from Facebook. Great Aunt Vera is a fantastic artist and although the kids spent most of their time hanging upside down off the couch I enjoyed the visit a great deal.
1
On October 30, 2014 at 11:56 am
Auntie Janice
said:
Arno is your first cousin once removed, and his kids are your second cousins :) But they're all family!


You might also like
- London
(0.39303)
- Extended family Christmas
(0.387376)
- Rachel and Andrew
(0.386311)
- Ice balloons
(0.385051)
- Sleepover time
(0.383721)
All