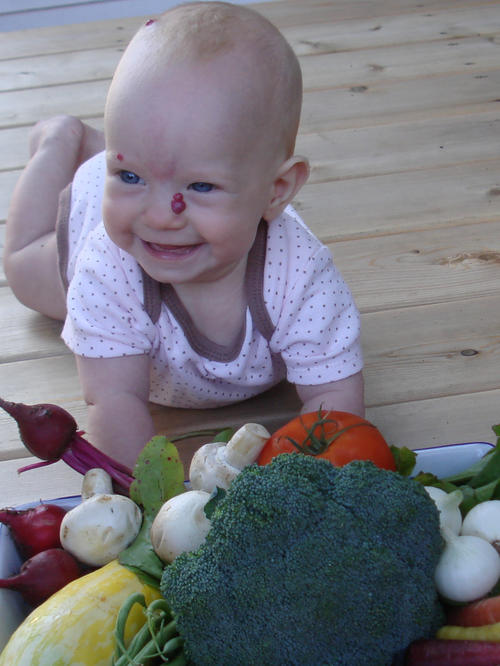 I might be a bit of a science geek since I've always thought that calling a subset of food "organic" is a bit of a misnomer. After all, one would hope that our food is not inorganic... (And don't get me started on "natural". Arsenic is natural too!)
In any case, as of June 30, 2009, the Organic Products Regulations came into full effect, making the new Canadian Organic Standards mandatory. Our vegetable Christmas elves (aka Bryson Farms) is "Canadian Organic" certified, which they explained as follows:

"Non-certified ("wantabe")organic producers cannot use the logo and now they cannot even use the term "organic" if their products cross provincial boundaries. Consequently, you will see lots of "biodynamic," "natural," or "earthy" products out there.

Unfortunately, Ontario has not regulated "organic" production so "wantabe" organic producers in Ontario can still use the term "organic" as long as they do not sell their products in other provinces. "Wantabe" organic producers in Quebec cannot use the term "organic" regardless of where they sell their products. BUYER BEWARE!
Products which conform to other organic (perhaps lesser)standards may be "certified" but may not conform to the Canadian Organic Standards. Confused? Just look for the Canadian Organic logo to be sure!"
Many of you may have seen commentary and news reports recently about a study proving that organic food is not any more nutritious than ordinary food. Turns out it's not quite that simple - some say the claims that organic food is less nutritious are misleading. Those objecting loudest are not exactly objective observers, but there is no question that the whole organic debate isn't as black and white as the catchy headlines might suggest. Certainly I wonder what the term "organic" means in the context of the study (too tired to process it in its entirety). "Organic" doesn't even mean the same thing from vegetable to vegetable at Loblaws, so I doubt it was consistent across the 55 studies reviewed.
I'm betting our Vegetable Christmas is more nutritious than Loblaws vegetables (both organic and nonorganic), but that probably has more to do with the fact that it's locally produced and harvested ripe the day before delivery. I like the fact that Vegetable Christmas is "organic", but for pesticide and ecological reasons.
Also, I never feel compelled to photograph Elizabeth with my supermarket purchases....