October 5, 2014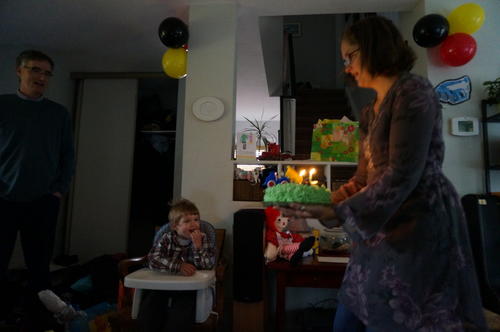 It was party weekend and long past time to celebrate Xander's birthday which was technically last month. He's into Bob the Builder so had a construction theme to his party. Elizabeth approved, especially of the many chocolate options. The kids spent quite a while playing outside and were sorry when it was time to go home.

We gave him a sock monkey umbrella from the "store with the skunk" (aka the Christmas store in Huntsville). Elizabeth kind of thought she ought to have one too. Grandma H wrote Xander his very own book for his birthday! Lucky boy!
Erika did come too, but she spent most of the afternoon arguing with her dad so she's not in any of the photos.
You might also like
- Angie
(0.329389)
- Sport Day
(0.318318)
- Matthew's christmas concert
(0.317111)
- Lac des Loups
(0.315372)
- Happy Father's Day
(0.314152)
All