September 25, 2014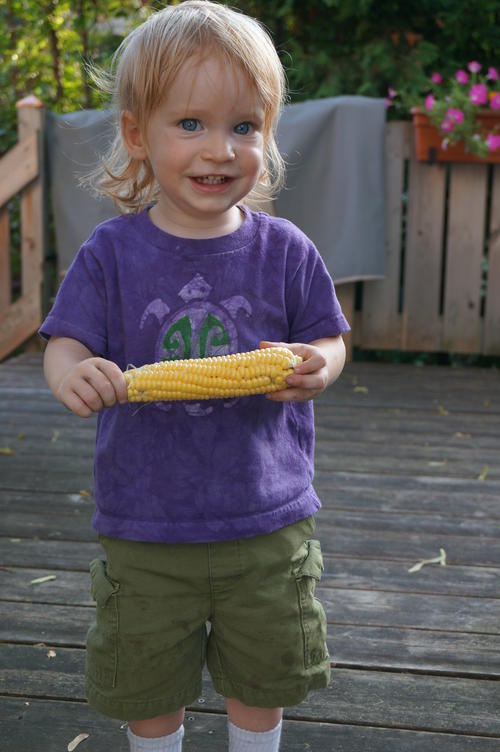 We planted tomatoes, carrots, onions, beans (pole, green and yellow bush, green dwarf bush and lima), watermelon, pumpkin, potatoes, sweet potatoes and CORN this year in the garden.
I had basil, sage, rosemary, mint and jalapeņo peppers. There were gooseberries and red currants. Black currants and rhubarb.
So it is fair to say we were rather ambitious this year.
I waged a royal battle with the squirrels and chipmunks over the corn seed, but covering the entire thing in netting allowed the corn to grow tall enough for them to lose interest in digging it up. I think the racoons ate the last few tiny cobs that didn't ripen as some disappeared, but we did get about 10 cobs(!) They were poorly pollinated, a bit starchy to eat and a few were affected by smut (lol - that disease name still cracks me up). But I was not necessarily expecting actual corn as I know it is hard to grow in small quantities. The corn was so interesting to watch grow and we felt so triumphant about pulling them off our very own stalks that we considered this a roaring success. I may well try corn another time.
On the complete disaster front: I forgot to rotate my pumpkin crop (well, actually I didn't have room for it where I was planning to put it because the corn took up more space than expected.) and pumpkins got the blight. I wasn't too worried since we had the same problem last year, but it turns out that if your vines are affected by blight too early, all the baby pumpkins rot and fall off. Sob! The watermelon struggled next to the pumpkin too, but the real problem was that the chipmunks ate the baby watermelons as soon as they appeared. So no pumpkins or watermelons for us!
The carrots suffered from my decision not to thin them. Being lazy worked out for us last year, but I guess more plants grew this year so we had rather interesting shapes. They taste okay though. The variety we tried isn't quite as nice as last year's exquisite crop though. We're going to wait and see whether a frost will help.
The tomatoes were disappointing too. Too much rain and too cold meant they were pretty unhappy and didn't bear much fruit. It didn't help that Matthew was very keen to pick all the flowers and green tomatoes that he could reach. Luckily I still have a year's supply of canned tomatoes in the cupboard from last year.
We had an extremely prolific crop of beans though. The lima beans were amazing and even if you forgot to pick some and they dried on the vine it's not a big deal because then they are just dried lima beans that need extra soaking. I may have nearly destroyed my pot when I forgot one batch on the stove and turned them into charcoal pellets but the ones I didn't burn were lovely.
The potatoes were great as well, though I'm not sure if we'll get any sweet potatoes - an afterthought planted very late, they didn't get enough sun while their potato friends with a big head start were towering over them.
The rest of the garden pretty much behaved as expected. The kids very much enjoyed digging in the dirt and triumphantly bringing "their" spoils to show Daddy. Now I just have to figure out what I'm going to plant next year!
1
On November 8, 2014 at 04:59 am
Grandma H.
said:
Love that triumphant smile! Always great to have some results from the garden.
You might also like
- Garden
(0.483043)
- A garden update
(0.443387)
- Garden
(0.435428)
- Garden
(0.431579)
- Harvest
(0.429211)
All