September 21, 2014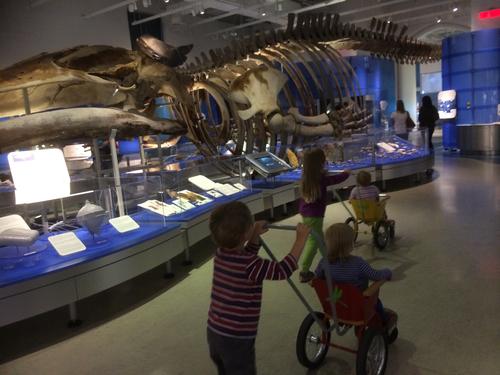 Uncle Dave and Auntie Karen celebrated their fifth wedding anniversary (woah - already?) so Elizabeth and Matthew got to have another cousinly sleepover. Isabelle and Xander are not quite as self sufficient as Erika and Maria, so they only stayed four nights instead of eleven! We are definitely making pretty good use of our new van...
Elizabeth was a good influence on Xander, whom we gather usually wakes up much too early. When he woke up before the sun, she told him to go back to bed until finally he did! It was nonetheless a learning experience to have so many small children all wanting to get up very early in the morning... I think the biggest difference between two and four (at least this particular four!) was the volume! Elizabeth and Xander invented a racing truck game that was deafening. Matthew didn't help by chasing everyone around pretending to be a scary bear that wanted to gobble you up! Apparently Karen noticed a distinct difference in Isabelle's playtime after the weekend - she said her pretend play became much more elaborate!
I was a little worried about getting all four kids to the bus stop on time all by myself (Brendan has a breakfast meeting Friday mornings). Luckily our tenant Mahnaz was available to help wrangle the babies. The bigger problem turned out to be picking Elizabeth up after school; I underestimated how much time it would take us to get to the stop and the kids would NOT be hurried when the bus pulled up to the curb half a block away. I thought that surely the driver saw me and would wait, but he wasn't looking for a mom with three other kids. I was absolutely horrified when the bus then left without dropping Elizabeth off. Cue total panic as we tried to figure out what to do, but luckily the driver just went around the block again in order to give us more time to show up!
While Xander was at preschool Friday morning the babies and I went to Isabelle's house. She was SO happy to see all her toys!
On Saturday I took the kids to the Dinosaur museum. We became a bit of an exhibit in our own right when two separate lots of tourists begged to take a photo of the "big kids" pushing the babies. While we were there, the museum opened up some dinosaur field jackets that were collected many decades ago. Elizabeth and Xander were lucky enough to get to help separate plaster from bone! Xander didn't quite understand the point of the safety equipment... Elizabeth would have spent a lot more time helping, but Matthew and Isabelle were restless enough that we had to head outside to let off some steam. The kids reminded me of puppies, wrestling with each other and rolling all over the grass.
Sunday Auntie Janice came home from Africa! Matthew was very excited to see Auntie Janice, and not just because it meant he got to help with loads of laundry... Isabelle and Matthew spent a lot of time in her suitcase "helping" unpack. Elizabeth would have been excited except that she had grievously wounded herself about three minutes prior to her arrival by face-planting on her truck and was all wrapped up with ice and watching a consolation movie with Xander. Sigh...
On Monday I took the little kids to French class, where there was much playing with sand, garbage trucks and some very cool dinosaur books. Back home, we built couch cushion forts and did the milk/food colouring/soap science experiment. Then Mommy and Daddy showed up again to have supper and take away the cousins. We talked them into trying out the fancy new washing machines. Have I mentioned Matthew is obsessed with doing laundry these days? It goes around and around and around... Matthew was very happy to get his room back, which surprised us since he barely spends any time in his own bed!

1
On November 12, 2014 at 01:08 pm
Grandpa H
said:
Nice to read the official version - having seen some of the 4-child mayhem via Skype! We are so glad that our grandchildren all get along so well, that's a gift from God. As to big kids pushing babies - here it's perfectly normal for the 4 year olds to be in charge of the 2 year olds. Unfortunately there often isn't an adult around, and it can get dangerous, as in traffic...
You might also like
- Family Day
(0.475375)
- Sewing with kids
(0.466582)
- Mary and Andrea visit
(0.464851)
- Canoe Camping
(0.462963)
- March Break
(0.460171)
All