September 29, 2014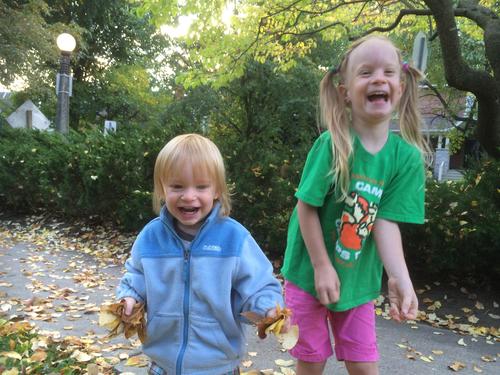 A series of random photos - mostly on the way to or from the bus stop.
Notable: Elizabeth decorated her own banana and picked out clothes for Matthew (he's starting to veto some choices though, so they both go to the other room and then we hear "what about this one?" "no" "this one has your favourite bear..." "no" "You have to pick ONE of them Matthew" "no". But eventually they figure it out...)
Matthew has inherited Elizabeth's old backpack and insists on wearing it. He copies her at every opportunity.
The rock Elizabeth is holding is a piece of pumice she traded some bugs for at the museum of Nature. She LOVES that she can hold a piece of volcano.
Fall has begun - Elizabeth and Matthew are bringing leaves to the bus stop with them so they can play.
Elizabeth is enjoying school more now, though she still is happier on weekends. She's "used" to her teachers now. Frequent play dates with her friend have helped a lot.
You might also like
- Fort Magic
(0.339015)
- Amelia is 5 and a half
(0.337079)
- Insectarium
(0.332186)
- Splash pad
(0.328647)
- Rachel
(0.328333)
All