November 9, 2014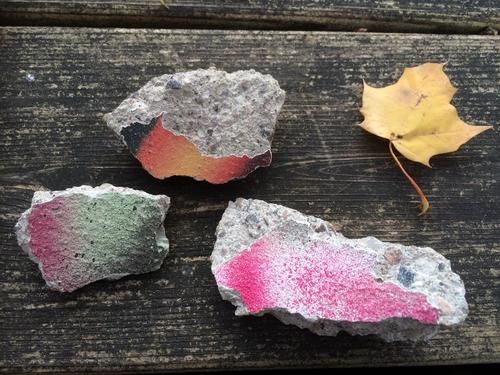 Today is the 25th anniversary of the fall of the Berlin wall.
I remember watching the news when the wall came down (I was eleven!) About a year later my parents decided that we ought to go to Berlin for a visit in order to get a chance to experience history for ourselves. I would have been twelve. Uncle Dave was ten. Auntie Janice was three. My friend Catherine came along, which was the best part as far as I was concerned!
We stayed in East Berlin. I remember being surprised by how shabby everything was, although the hotel was supposed to be a nice hotel. Even the toothpaste was super gross. By the time we were there, we were able to visit some hastily erected museum displays. I was most interested by some of the contraptions people used to try to cross from one side of the wall to another (well, technically there were actually two walls with a no-man's land in between them)
We visited Checkpoint Charlie - broken glass everywhere - people had busted up the windows. We ate at the Fernsehturm Television tower. We admired the East side of the wall and spent a bit of time chipping our own pieces off the wall. All the paint on the side was added by tourists post-fall. I gave my pieces away to friends when I got back and they all LOST them and asked for another piece. I still remember how disgusted I was! We also bought some pieces near the Brandenburg gate (I still have mine) I had a "certificate of authenticity" but I think that was sadly lost in the move from Belgium to Canada.
And that's the story of how I ended up with my own pieces of Berlin wall!
1
On November 10, 2014 at 00:09 am
Grandpa H
said:
It's so good to remember that trip! We've had some fine adventures, God is good!
2
On November 10, 2014 at 11:57 am
Angie
said:
This brought tears to my eyes!
3
On December 9, 2014 at 10:02 pm
Great Aunt Vera
said:
We stayed in a campground beside the Berlin Wall, after one night of barking dogs and gunfire we moved. We could see the Wall from the second camp but it was quieter,this in 1982
4
On December 9, 2014 at 10:04 pm
Auntie Janice
said:
I don't remember the wall, I was too little
5
On December 9, 2014 at 10:05 pm
Grandpa H
said:
I think it was within six months of the wall's fall - I can't find my logbooks at the moment or I would be able to give you dates. Flying in was great fun, there certainly weren't many private airplanes going to Schoenefeld Airport then. Do you remember the border guards that greeted us on the tarmac in brand new West German uniforms, not quite sure what to do with (or to) us? The flights posted were all to places like Moscow, Havana, Maputo... We rented a car from a plywood Avis booth in the arrivals hall, but the agent had no idea how to give road directions - she had only ever travelled by tram and bus.
6
On December 9, 2014 at 10:06 pm
Catherine G
said:
I remember the plane being tiny and bouncy, and being amazed that a 'real' person could fly one, but I don't remember the landing. I remember the markets, and the wall, and Checkpoint Charlie with the cars with removable back seats and stuff, and thinking how scary that would be. I bought a ceramic cat and a red glass die as my souvenirs of the trip (!). I still have the bought piece of the wall, but not the bit I chipped off. I mainly remember the stark difference between the two halves of the city - neon, Mercedes, and beautiful architecture or darkness, Ladas, and row after row of the same forbidding grey buildings.
7
On December 9, 2014 at 10:07 pm
Mary @ Parenthood
said:
I totally forgot we flew in. Why didn't we fly home? I have distinct memories of a train ride. Not to mention a dead battery in the car after someone (Dave I'm sure lol) left the lights on in the back seat
8
On December 9, 2014 at 10:08 pm
Grandpa H
said:
We flew there and back again - I believe in a Piper Seneca II twin that was rented from the Brussels private, grass airport that no longer exists (and I forget the name too)...



Do you still have that understuffed cat cushion? It came from East Berlin.
9
On December 9, 2014 at 10:10 pm
Grandma H
said:
I remember feeling scared at the airport, as they had not had many (any?) private flights before. I remember the dim street lights of E. Berlin and the stark worker's hostel where we stayed. I don't think it was that long after the wall fell, not more than a few months. Lots of bananas for sale. I remember the Russian hat Dad bought, and the Russians leaving in trucks around the Potsdam area--a lovely calm oasis where peace had been signed. Some time later I bought a book called "Die Mauer spricht" (the wall speaks), and it has lots of illustrations of the paintings--lots of graffiti, but in 1984, 30 sketches were chosen and then painted on the wall. Most of the wall was destroyed in the centre of town by the time we arrived, but still stood on the outskirts.
10
On December 9, 2014 at 10:11 pm
Uncle Dave
said:
I'm pretty sure I didn't leave any lights on. I never would've done that sort of thing ;)



I remember buying that awful blue portable tape player and a tape - I think it was the Dick Tracey soundtrack. My school friends in gr. 7 & 8 called it "the blue monstrosity" or something like that.
11
On December 9, 2014 at 10:13 pm
Catherine G
said:
Your memory is astounding. I don't remember those sorts of details, more snapshots or feelings. I remember the light near where we stayed, and how it slanted. There weren't many leaves on the trees. The water in the taps was browner than I was used to seeing.



The hostel was rough and surrounded by concrete, and decorated in shades of faded greys and browns. I remember the furniture all looked second-hand, and an impression of heavy, cheap, serviceable workaday carpet, quite worn in some places. No frills. They had a couple of sections of the Wall on display near the no-man's-land outside the Brandenburger Tor, which is where I learnt that term (no-man's-land), and where we bought our colourful chunks of painted wall. I remember sellers with pieces laid out on blankets (?) and choosing very carefully, because it was expensive and I only had a little spending money.



I remember looking out over Berlin from the restaurant in the sky and thinking, yes, those whole areas are definitely no-man's-land. No one could own that. No one could want to. It looked like a terrible scar across the city's face.
You might also like
- Party
(0.399791)
- The Big Clock
(0.393548)
- Visitation and Recital
(0.383693)
- Jaundice
(0.38349)
- River Oak
(0.380267)
All