November 23, 2014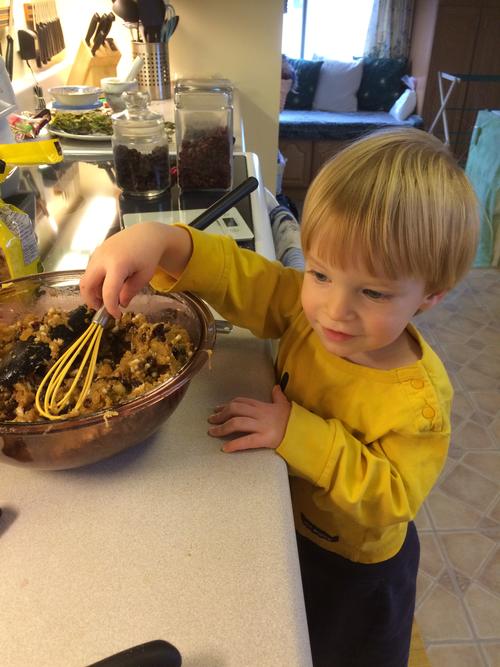 In addition to being Christ the King Sunday, today is Stir Up Sunday!
What is Stir up Sunday? Well... in theory, it's the day that Anglican churches traditionally had a collect that went "Stir up, we beseech thee, O Lord, the wills of thy faithful people; that they, plenteously bringing forth the fruit of good works, may of thee be plenteously rewarded; through Jesus Christ our Lord. Amen"
Cooks in the congregation listening to the collects would hear the call to "Stir" and be reminded that it was time to make the Christmas pudding. Sadly, our church does not read the right collect. Apparently the collects were modernized by people who obviously weren't pudding makers...
When we got home from church we duly assembled our ingredients and everyone had a turn mixing. Brendan was so fast I didn't get a photo...
The pudding put me in the mood to make Christmas cookies, except I was almost out of eggs. So I made lasagna instead, with pull-apart garlic parmesan gluten free bread, kale Caesar salad and double chocolate Christ the King bundt cake. The family did not complain.
1
On January 21, 2015 at 01:19 pm
Grandma H.
said:
Your pictures are making me hungry! Is your garlic bread recipe available?


You might also like:
-
Easter
-
Christmas
-
PD Day
-
Party
-
Cottage Arrival 2019