October 26, 2014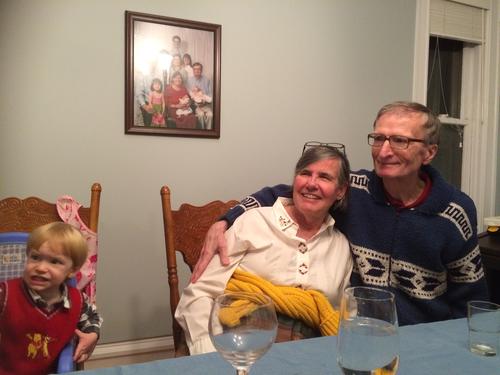 It was a party day today. Church in the morning and then I took the kids to the Halloween party at the Glebe Community Center just before we headed to Chris and Yukiko's for Grandma J's birthday party.
Elizabeth described the Halloween party: "We had to sword sword sword and I DID IT! Matthew kind of did it. I was better at most of the activities but they gave Matthew his candy anyway. We made a cookie. Afterwards we got to go in the bouncy castle. Matthew didn't want to and he was too little. I got to go in and bounce bounce bounce bounce bounce." There was a "haunted house" that we wandered through (but opted for the tame little kids version which mostly consisted of bubbles and inflated animals). The kids enjoyed themselves greatly.
Grandma's birthday party was pretty exciting too - Grandma! Cousins! Cake! Candles! On the way home, Elizabeth demanded to know who had the next birthday and wondered how many days she had to wait for the party. "I AM invited, right Momma?"
You might also like
- All Saints and GNAG Halloween Party
(0.362832)
- Douvris Halloween
(0.345853)
- Sheep Shearing
(0.341499)
- Fall Fair Birthday
(0.339683)
- Easter egg hunt
(0.339572)
All