November 11, 2014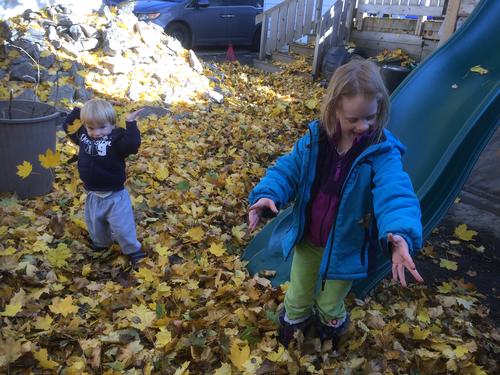 Some of you might have read about Ottawa's recent terrorist attack (the shooter on Parliament Hill on October 22nd). Most of the schools within two hundred kilometres of Ottawa apparently responded with "lockdowns", which in my opinion was way overkill. Elizabeth's school, however, is actually not that far from Parliament and Rideau Centre is walkable. (At one point there was a report of additional shootings at the Rideau Centre, though this turned out to be a social media rumour rather than actual fact.) So we were not surprised to learn that that her school not only locked all the doors to the school but they locked all the classroom doors, kept the kids away from the windows and made the kindergarteners whisper for nearly six hours. Apparently the stories given to the kids is left up to the discretion of the teacher. So Elizabeth's friend Adi was told about a wild animal roaming the playstructures. Elizabeth's class received a more truthful version but unfortunately a little too much detail for our rather sensitive girl. She's now rather scared of Parliament (doesn't seem convinced that the "monster" that was "shooting people dead" isn't still hanging around) and she was very concerned about Prime Minister Harper. She's fond of him because he invited her to a party with a merry-go-round, you know...
I was worried that perhaps Remembrance day might be a bit intense for Elizabeth under the circumstances and who knows what her teacher might decide to talk about, so we decided to keep her home. Besides, we traditionally make Christmas cake with Grandma on Remembrance Day and Elizabeth was a bit put out that we made it without her help last year.
It was very nearly a disaster. Before heading to Grandma's, we decided it would be fun to rake the leaves. It was a warm day and the forecast was looking chilly. Maybe even a little snow coming... So we wanted to get the leaves off the ground.
The kids were having a blast, especially Elizabeth. Suddenly she started screaming. Turns out there was a wasp hiding in the leaves and it flew up her pants and stung her.
It took a while to calm her down but eventually we were able to proceed as planned with swimming and cake making...
You might also like
- River Oak
(0.415254)
- Tornado!
(0.415038)
- Virtual School: Week 12
(0.413913)
- 16 Months
(0.413428)
- Virtual school: Week 3
(0.408269)
All