December 4, 2014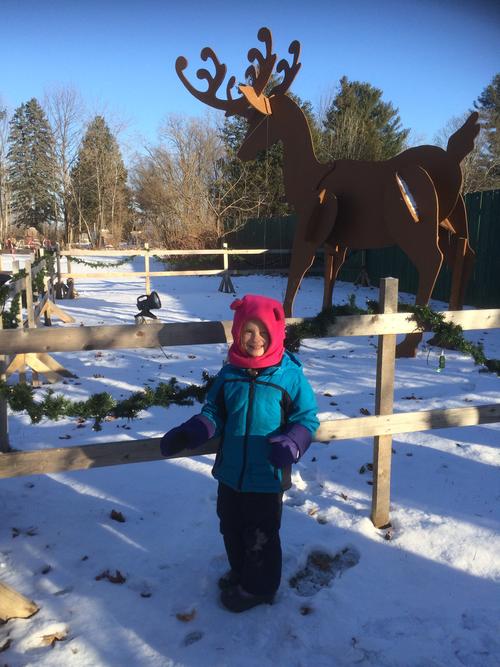 I signed Elizabeth and Matthew up to go to an "old fashioned Christmas" with our local homeschool group, but when the day came Matthew was obviously too sick to go.
Elizabeth and I had a lovely time though. There was gingerbread cookie decorating. There was hot chocolate in front of a roaring fire. We had a horse drawn wagon ride. We even watched cartoons - a rather strange one from 1936 about orphans getting poor quality toys so this guy poses as Santa and turns all their household goods into toys. Not sure what they were going to use later for household goods like forks and things, but Elizabeth thought it was amusing. Elizabeth also got to try her hand at printing her own Christmas card using an embossing stamp.
But the highlight was definitely meeting Santa and getting to sit on his lap! We don't "do" Santa, so she's never had that experience before and she found it quite entertaining. He wanted to know what she wanted for Christmas. "A book with Santa in it", she requested. But although she checked with me a couple of times whether it was the real Santa (nope), in the car she was careful to repeat her request so that Santa Mommy would know what sort of book to get her. Later she was telling Daddy all about meeting Santa. "It was the REAL ONE", she said excitedly. Then she looked at me pointedly "Mom, just go with it, okay?"
1
On January 23, 2015 at 02:09 pm
Grandma H.
said:
Must have been a well made up Santa. We are still chuckling!
You might also like
- Cooking Class
(0.385204)
- Cooking Class
(0.378161)
- Mother's day
(0.370582)
- Number 3
(0.369589)
- 13 Months
(0.368311)
All