December 15, 2014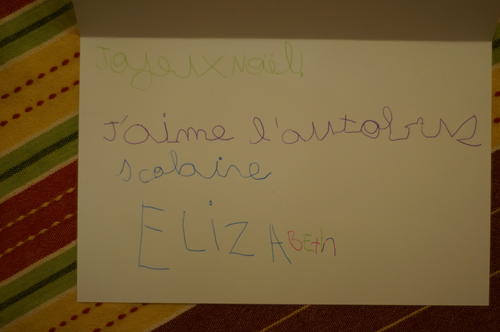 I love teacher gifts. I hate teacher gifts.
The main reason they are horrid is that we keep leaving the card making until far too late. (STRESS!)
Elizabeth had more than a dozen teachers that she insisted needed a gift this year. That's a lot of cards to decorate and write messages for. We made little boxes out of scrapbooking paper - with help from my good friend Pinterest - and then Elizabeth helped make fudge and candy to go inside.
But all that card making is great writing practice! I'm pretty proud of Elizabeth's cursive - I'm thinking my writing wasn't that legible until I got into high school... My favourite card is the one she wrote to her bus driver "Joyeux Noel! J'aime l'autobus scholaire" (or Merry Christmas! I like taking the school bus) I tried to convince her that she could just write bus, but she was having NONE. OF. IT. At least she took my advice to get help with her spelling ;)
You might also like
- Camp Otonabee
(0.363636)
- Last day of Kindergarten
(0.35092)
- Homeschool
(0.349927)
- Strawberry picking
(0.348597)
- Preparing for Gingerbread
(0.348505)
All