August 13, 2009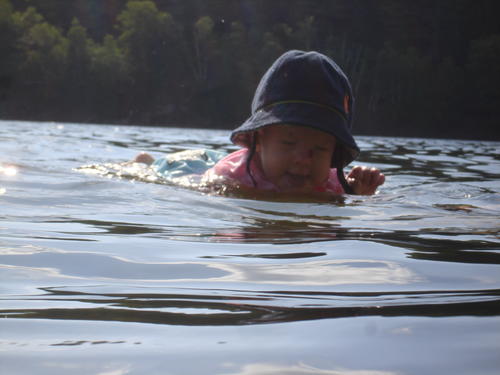 When Elizabeth was first born we had an interesting time learning how to bathe her. Whether normal or not she decided that bath time was "throw a fit" time and we quickly decided that there simply must be a better way to clean one's child. Showers worked and life went on. On a few occasions since then we've tried the bath again (with Mommy in the big tub) and it has been alright. While she doesn't seem to love it like the shower she gets clean and doesn't tend to scream anymore.
So come time to go to the cottage (which is right on Lake of Bays in Muskoka) we wondered how she would take to the lake. On the way up we stopped at Golden Lake and I let her squish her toes in the sand while the waves washed over her feet. This was a Daddy job since Mary isn't really into getting her feet wet! Elizabeth was absolutely fascinated by the waves which we took as a positive indicator.
Well the next day we hit the lake for a proper swim and she was not exactly a happy baby. The water was a touch chilly so we figured we would try again the next day when it was supposed to be much warmer. The next day the water was indeed several degrees warmer and Elizabeth approved. She loved splashing about and swimming around with Mommy. There was one small unanticipated issue which did arise... She tried to lap up the water with her tongue. Now in our clean bathroom this is not such a big deal but in the lake we felt she should probably restrict herself to splashing and swimming so Mommy had to keep a very close eye on her. She also didn't seem to terribly like being on her back in the water. Probably partly the feeling of weightlessness and perhaps also because she doesn't tend to like being on her back period.
By the last time we took her swimming she was over all her apprehension and having such a grand time that everyone on the busy beach was drawn to admire her and comment on how much she seemed to be enjoying the water.
You might also like
- Three Months
(0.400391)
- TriKids Triathlon 2017
(0.399827)
- Matthew's first skating class
(0.398608)
- Journey's End
(0.397666)
- Karate Tournament, Ottawa Chamber Orchestra
(0.397273)
All