December 17, 2014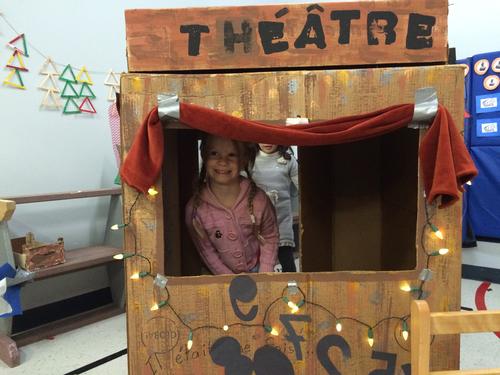 We were invited to Elizabeth's school to visit the Christmas village the various classes had put together.
Elizabeth's class was responsible for making a theatre, complete with shapes in the form of "suites" (sequences). Elizabeth's starting to throw quite a number of French words into her speech when she can't think of an appropriate English one. We find this quite adorable.
Anyway, the village was very cute despite the fake reindeer poo everywhere (and I mean EVERYWHERE) but the visit itself was odd because we arrived and the kids arrived and then no one had the slightest idea of what to do. It was obviously the first time the kids had actually seen the whole village and the staff didn't want the kids to play in it because there were a whole pile of educational activities planned for the next day. So we kind of milled around confused until one teacher took pity on us and explained to us what some of the activities were going to be until our timeslot was up. Elizabeth really loved the activities the following day but we strongly suspect that the only reason we were invited was that someone was all "Crumbs - last year we did a whole Christmas concert - what are we going to do this year???"
You might also like
- Skating
(0.381688)
- Last day of Junior Kindergarden
(0.371505)
- Weather board
(0.370508)
- 123 Petits Pas
(0.368586)
- Grade 1 update
(0.367412)
All