December 26, 2014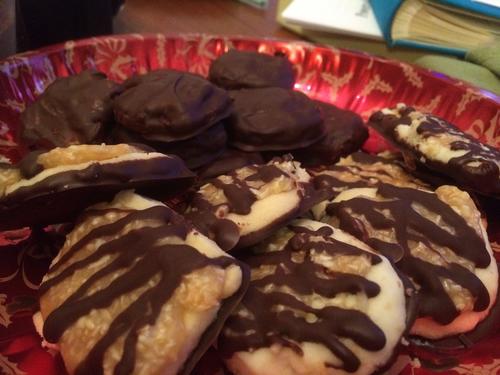 I finally finished making most of my Christmas cookies. Thin mints, Coconut caramel chocolate covered shortbreads, chocolate mint meringues, Nanaimo bars, fudge and chocolate truffles. There might be a theme. I threw in some Christmas jello just for fun. Clearly we had a shortage of dessert...
Matthew received a doll for Christmas which has many different pieces of clothing. Matthew is very into removing and replacing said clothes - I find this amusing because Elizabeth only recently started to play with doll clothes (after I put most of the ones we had away, of course...). Unfortunately it only took a single day before Matthew managed to scalp his new baby boy. He brought the hair and bald baby to me for repairs with great crocodile tears. Enough force was used that Daddy had to do the mending with his greater muscles and a screwdriver, but eventually we got the head back together and the hair is now firmly attached once again. I gather Matthew was traumatized enough by the bald head that he isn't tempted to try to remove the hair again... Yet!
1
On January 23, 2015 at 01:48 pm
Grandma H.
said:
My mouth is watering...

I'm curious how Matthew did it- and why did the head have to be removed? Better on the doll than on him!
You might also like:
-
Smiley Face Pancakes
-
Piano Recital
-
Cottage Days:Swim, visit and treasure hunt
-
Auntie Muriel's
-
Starry Sunday