February 5, 2015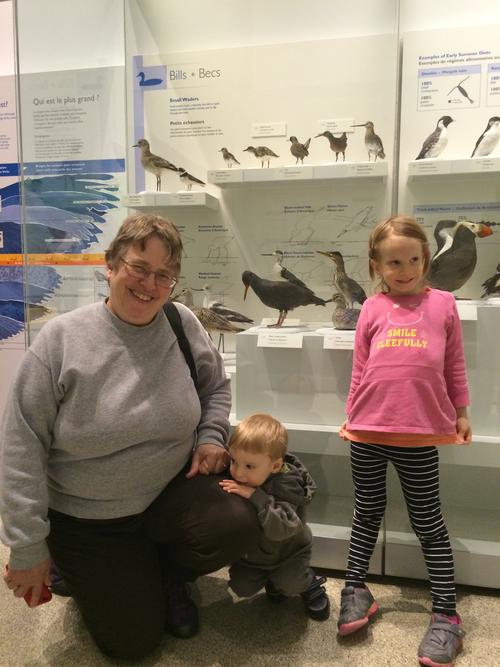 Angie came from England for her much anticipated Winterlude visit. Elizabeth counted for many days beforehand - she apparently wanted to show off her skating and also Angie is "more fun" to play with than Mom or Dad.
Matthew didn't remember her last visit but warmed up almost instantly. He adored the little train and book she gave him so much that he insisted on taking them to bed with him. He also learned a new word: "MINE"
Some years the weather has been too mild and the ice wasn't very skateable, but this year was almost too cold to skate some days. I didn't actually get out skating with Angie at all myself - left it too late and then was felled by stomach flu - but I hear she did have some nice skating weather. Next year!
Elizabeth and Matthew dragged her to the Nature Museum. They posed in front of their favourite birds, showed her the Arctic exhibit and Elizabeth even got to dig for real dinosaur bones again. Matthew was still too little, so the paleontologist gave him a ball to keep! He was super happy.
We went out for dinner at the Works and we partied with Dave and Karen and the kids and we were very sorry when Angie had to go home. "But she just got here!" said Elizabeth. "Awwww" said Matthew.
You might also like
- Dance Camp
(0.387755)
- Fall summer
(0.386982)
- Sheep Shearing
(0.385848)
- Rachel
(0.382398)
- Skating
(0.378378)
All