February 11, 2015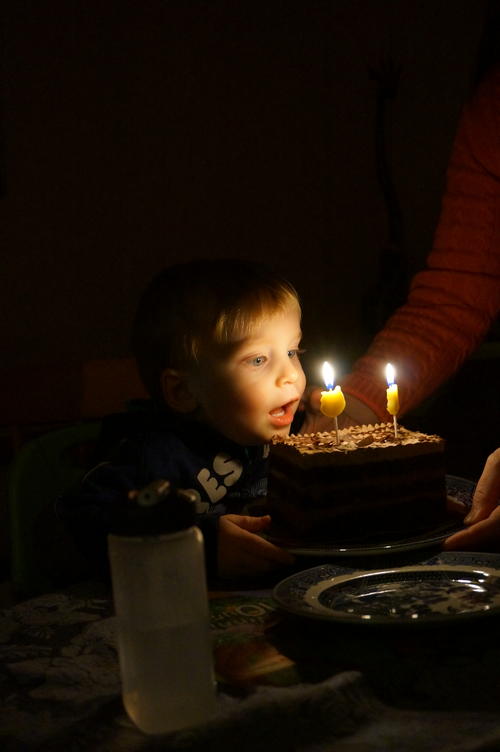 We celebrated Matthew's birthday with a stack of pancakes and eggs. Matthew blew the candles out very professionally. Turns out that pancakes fresh off the griddle are hot enough to melt birthday candles...
Spent the day reading "book book" ("MINE!") after "book book" and sorting through baby clothes for Amelia. Matthew enjoyed trying on the various hats and socks and playing boat in the empty boxes.
After school we all went to Swiss Chalet. Matthew nearly fell asleep on the way to pick up Elizabeth. We kept him awake with a video on my phone singing "Happy Birthday". He ordered hamburgers with cheese and mashed potato. After Swiss Chalet we went to the "ISH" (fish) store and bought some new fish. Sadly half of them turned out to have a dreadful disease but we didn't discover THAT until the following morning. Hopefully the rest of the tank isn't about to follow.
Then we came home around bed time and had chocolate cake. There was more use of the Happy Birthday phone video on the way home but he gamely stayed awake long enough to blow out his candles and eat a piece. He had a MUCH harder time with the candles in the evening and then discovered that one should not grab the wicks until they cool down, but the resulting burn wasn't serious.
Then bedtime - a wee bit late - and he was asleep practically before his head hit the pillow.
You might also like
- Happy Birthday Janice!
(0.377577)
- Amelia's third birthday party
(0.375423)
- Canoeing
(0.368687)
- Family Day
(0.368201)
- Virtual School: Week 17
(0.367561)
All