February 16, 2015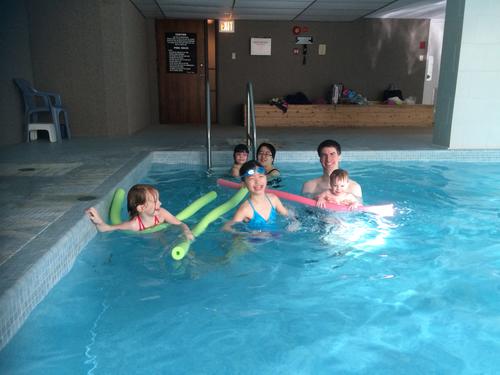 Grandma invited us to come swimming before lunch today so we met up with Auntie Yukiko and cousins Erika and Maria. There was much playing with tinker toys and of course splashing in the pool.
Everyone likes the water now and Maria has made a ton of progress since the last time we went swimming (and she refused to let go of the ladder!). Now she dunks her head and swims around happily with a noodle. Elizabeth showed off her swimming skills swimming most of the short length of the pool in the shallow end several times before taking off to play shark with Erika - who is a great little swimmer now. Matthew is desperate to imitate, which can be a little scary but we are pleased that all are enjoying swimming so much.
After swimming, my kids ate many, many cookies. Cookies and hot chocolate are a post-swimming tradition at Grandma and Grandpa's house, so although we suspected this meant a light lunch we decided that this is partly what holidays are for ;)
Then it was time to go. Elizabeth got very, very quiet. "My tummy hurts", she said. "I drank too much pool water." And she cried because she didn't want to stop playing with her cousins and it isn't "fair" that Grandma plays with Matthew and she never gets a play date all to herself anymore. We were puzzled about whether she was feeling well, but usually an unwell Elizabeth doesn't eat (even cookies!) and she insisted no bucket was necessary. So we went home. And we practiced piano. And suddenly at the end of the practice she turned green and we barely made it to the newly finished bathroom where she tossed those cookies good.
I was sad because we had been very much looking forward to going to the NAC for their Family Day program with Janice and new (short-term) tenant Lorianne. But then after a short nap Elizabeth declared herself better, ate an enormous amount of lunch and wanted to go out to the NAC. So, we chalked the episode up to too much swallowed pool water or something and headed out.
Cue ominous music...
Actually, the first forty minutes were fine. The kids got their faces painted. Matthew wasn't too keen on sitting still but was very excited to have his first facial artwork ("fly! fly!"). They made puppets and kept a respectful distance from other puppets and giant stilt walkers. There was some tracing as part of a scavenger hunt. Elizabeth won giant rock paper scissors against the champion. Then we were just learning about perspective when suddenly "I don't want to do this anymore", she said with a level of desperation that did not bode well.
Elizabeth and I spent the rest of the afternoon in the public bathroom. Matthew, Janice and Lorianne finished the scavenger hunt and played fun games like giant bowling that Matthew told me about for days afterwards. Then Daddy came and rescued us. Elizabeth insisted on a bucket for the trip from the bathroom to car (it was necessary). We resolved never, ever, ever to ignore our house rule to quarantine for 24 hours after any puking.
It turned out she had strep. Sigh.
You might also like
- Social Distancing: Day 20
(0.46315)
- St Patrick\u2019s day
(0.461049)
- Race Weekend (2km, 5km)
(0.45319)
- Family Day
(0.449456)
- Home
(0.448109)
All