February 21, 2015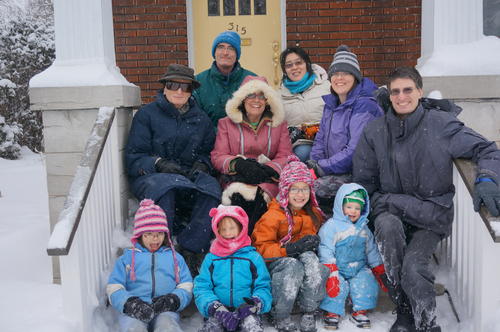 We offered Elizabeth the same deal as last year - she could have a special party with her friends if she combined her family birthday party with Matthew's.
I was a little dismayed that Elizabeth demanded not one but TWO "Frozen" themed parties, but in retrospect having the same theme made things much easier. For one, we were able to keep the same decorations up for both! Luckily Matthew didn't mind...
There was a slight glitch when the complicated schedule gymnastics that are always necessary to try and get everyone in the same place at the same time happened to place the party smack in the middle of Elizabeth, Matthew and Xander's music recital. Luckily we already knew everyone was free so we just moved the start of the party to the recital hall and asked folks to show up half an hour earlier if possible. Of course we also had skating ending at the same time as the recital began so it was a little frantic getting ready for the party followed by skating class and we were quite happy not to be late! Elizabeth was super excited to see all the people who came to watch her recital.
It was Xander and Matthew's first recital - they both did really well. Since Matthew could go up with his sister for some of it and with Xander for his "piece" I didn't actually have to hang out on stage at all. He did look a bit like a deer in the headlights but eventually started "bang banging" on his drum right at the end :) Elizabeth played her piece with her customary confidence though as usual she was concentrating so hard she looked rather severe until she was done.
After the recital we played in the snow for a bit and took some family photos. You might notice that tenant Jesse is back for a few months - he's actually been here since the beginning of year - to Elizabeth's great delight (she wanted Ray back too but we explained he's in still working in Toronto). The new face is Lorianne, who's staying with us this month. Elizabeth is amazed by her piano skills "She's better than Mrs Shana [ed note - the piano teacher] and I think she knows ALL HER SHARPS". This has been good incentive for piano practices!
After photos it was party time! There were appropriately themed cakes, lasagna, Caesar salad and garlic bread. In other words... the usual. Dessert was first, by special request. Then we blinked and much wrapping paper was strewn all over amid much excitement.
1
On March 14, 2015 at 01:47 am
Grandpa H
said:
Such busy people! We're looking forward to hear Elizabeth play piano.
You might also like
- Good Friday 2015
(0.441667)
- 5th Birthday Party
(0.439898)
- Home again, home again
(0.437751)
- London
(0.436247)
- Matthew turns 8
(0.432636)
All