March 7, 2015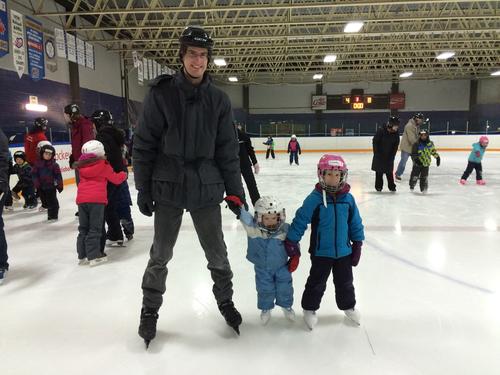 Last skating class of the season always seems to come very early. We all skated together for the family skate at the end - well - for some value of together (Elizabeth is much, much faster than the rest of us, particularly Matthew as one might imagine). Matthew was just happy to finally be allowed into the part of the rink where his sister was. Elizabeth was happy to show off how long she could skate on one skate. We noticed that her skates are completely dull. Next year we'll have to get them sharpened a bit more often, obviously!
1
On March 21, 2015 at 02:28 pm
Grandpa H
said:
That's a great photo of Dad and his kids! We are proud.
You might also like
- Matthew and Elizabeth spectacle
(0.341151)
- St Nicholas and Grandpa's birthday
(0.323661)
- Canal part trois
(0.320755)
- Come Sing Messiah
(0.316558)
- Waterskiing, fish and clams
(0.315789)
All