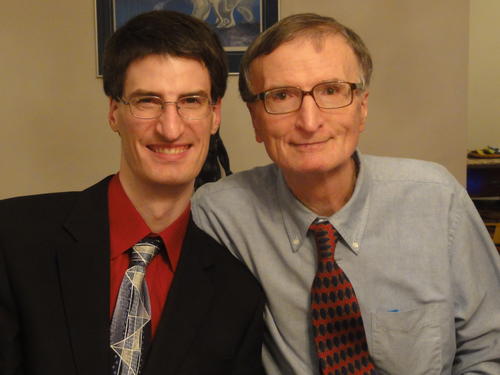 Silly Grandpa passed away suddenly and far too soon today. We've all been feeling mixed emotions as we deal with the shock, but also spent time remembering all the great times together. He was a true character and one of the most generous people one could ever hope to meet. He had travelled the world and shared many experiences and knowledge with all who would listen. His love for teaching others spilled over into his work teaching for many years at the local universities. People all over would exclaim with joy when they recognized him, or his children, "Professor Jaekl! I loved your course" or "I saw you on T.V.". His fame even got him out of the odd jam (traffic infraction). He was a great scholar of history with particular interest in Greek and Roman times. But ultimately it was his love for his family and bringing joy to them that we most remember. He adored his wife, his children and his grandchildren and took great pride in all of them. Seeing his grandchildren running around with the exuberance of youth never failed to bring a smile to his face and a twinkle to his eyes. He is gone far too soon and will be dearly missed, but never forgotten. His unique character lives on in the many lives he touched in ways that many of us are only just starting to really see and understand.
Auf wiedersehen Vati.
1
On March 22, 2015 at 10:51 pm
Jill
said:
We enjoyed him at Bondi, and yes, he loved to watch his children, and grandchildren play.
2
On March 22, 2015 at 11:43 pm
Nancy
said:
A lovely tribute Brendan. 'Grandpa J' was such a wonderful gentleman. We treasure our memories of him -- which of course are all involved with his vacations with his children -- and grandchildren -- so his visits were always coloured by that great love he had for all of you.

3
On March 23, 2015 at 10:58 am
Marcus
said:
I am very sorry for your loss Brendan. He seems like he was a wonderful person; and it is obvious that the apple didn't fall too far from the tree. My thoughts and prayers go to you and your family during this difficult time.
4
On March 23, 2015 at 10:58 am
Irina
said:
Dear Brendan! I am sorry you lost your dad.
Please accept my deepest sympathy and I hope you and all your family will find peace and strength at this time.
"Those we love who pass away live on in us".
5
On March 23, 2015 at 03:05 pm
Grandpa H
said:
Well said Brendan. Despite my initial reluctance (you and Mary were after all only in Grade 9!) this proved to be a union of families, which is all too rare these days. I enjoyed your Dad and miss him, but he has left an intangible inheritance in you and your brothers which, combined with God's grace and love and mercy, will transform many more lives and families. Que assim seja na providÍncia de Deus.
6
On March 24, 2015 at 09:59 am
Joanne Bender
said:
Dear Brendan, The loss of a parent leaves a huge hole in one's life. Your father was very special. When we met him at your wedding we were impressed with his intelligence and his polite, kind, generous spirit. It was obvious that he was a great role model for you, as you exhibit these same qualities. Your father's involvement with your children was very precious. Treasure those good memories, Brendan. May they support and comfort you as you and your family together grieve your loss.
7
On March 24, 2015 at 12:45 pm
Val B.
said:
Dear Brendan - you never fully realize how much a person has left their impression on your life & space until death separates us....and especially someone that is close to our heart. It sounds like your dad was a special guy and that you and your family have many cherished memories to carry forward. I pray that God's supernatural peace, beyond understanding, will guard & surround you as you grieve the loss of your dad! And as well to Mary and Elizabeth & Matthew!
8
On March 25, 2015 at 12:30 pm
Murray
said:
So sorry to hear of Dad's passing, may God comfort you and family!Cherish the memories! -uncle Mur
9
On April 14, 2015 at 03:05 am
Mahnaz
said:
Cher Brendan avec une grande tristess j'ai apris la novelle .J'ai de tres bons souvenires de ton pere et je l'ai trouve tres gentille et aimable je vous souhaite la sante et la patience et present mes condoleances a toi et ta famille.