March 18, 2015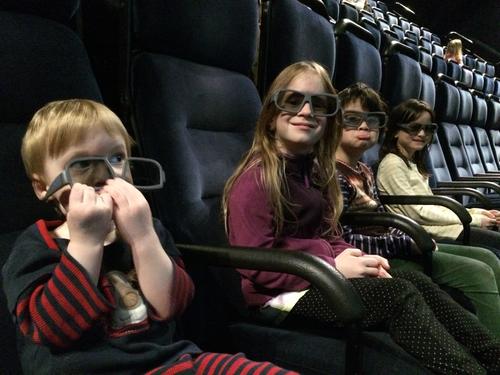 March Break was a little bit of math, a little bit of science (fireworks in a jar!), a little bit of reading and stories and a lot of playing with soon-to-vanish-to-Japan cousins.
We went to Grandma and Grandpa's for dinner with the family.
The four kids and I made an epic fort in the living room. Erika organized a book writing session - Matthew's is mainly scribbles but Elizabeth wrote out very elaborate instructions for a series of games in her book (Erika showed her how).
We played hard with cousins at the museum of Nature (throat singing was a particular hit)
We played hard with cousins at the Children's museum, complete with watching the IMAX Galapagos movie. I was a little worried that Matthew would have a hard time with his first time in a theatre but it turned out that he was enthralled. Elizabeth and Maria on the other hand seemed rather nervous, especially during the previews when a giant polar bear appeared rather close for comfort. But we all loved the movie and I'd say it was a particular highlight. I let the girls go off on their own inside the Children's exhibit for the very first time, provided they checked in regularly. They positively revelled in their independence and Matthew appreciated being allowed to explore things on his own schedule!
We visited Aidan and Caitlin's house and played with all of their toys!
But for me the best part of March Break was the day Elizabeth made supper AND did the laundry from start to finish all by herself...
You might also like
- Maria is 5
(0.377104)
- Party Day
(0.377014)
- Cousin Camp: Science Museum
(0.376446)
- History Museum
(0.37605)
- Sheep Shearing
(0.37439)
All