March 25, 2015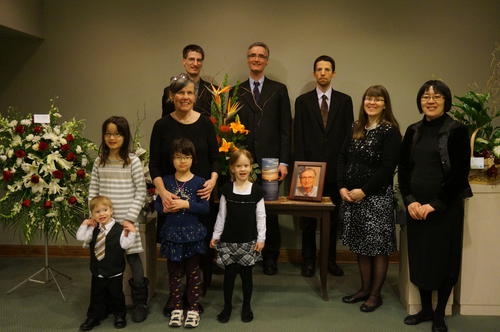 To those of you who kept us in your thoughts and prayers, who wrote to us, who sent cards, flowers, meals and donations, who helped with photos, offered child care and even brought us clothing, who came to the visitation or who came to the funeral: thank you!
We have been utterly overwhelmed by the love and support we've had in the last couple of weeks. Brendan commented at one point: "We have amazing friends and family!"
It's made a difficult time a little easier to bear.
Many people are wondering how we are doing, and the short answer is that by the grace of God we are coping. Elizabeth is struggling with insomnia which has made for some short nights and challenging afternoons but hopefully this will resolve soon. Advice of course is welcome.
We did video the funeral, for those of you who would have liked to see it. We also have most of it in text form. Let me know if you'd like links.
The English translation of the obituary written by the NZZ (the newspaper Christian wrote for)
1
On March 31, 2015 at 07:37 pm
Tom
said:
Mary, any chance any of his articles for the NZZ are available anywhere in English? Sounds like they could be a lot of fun to read.
2
On April 2, 2015 at 04:42 pm
Grandma H.
said:
Nicely done! The grandchildren will treasure the comments in your speech. Would like to see the text form of Chris' speech too.
You might also like
- Shark update
(0.347601)
- Cottage Days:Swim, visit and treasure hunt
(0.347486)
- Winterlude
(0.345733)
- Virtual Piano Recital
(0.345372)
- Happy Birthday Daddy
(0.345315)
All