April 6, 2015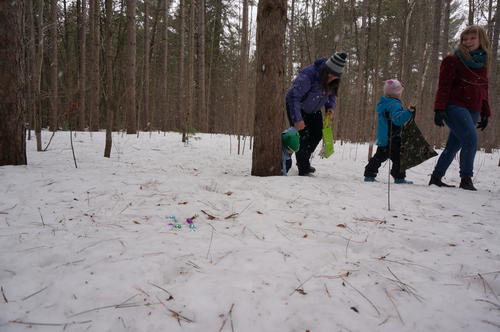 Erika, Elizabeth, Maria and Matthew went swimming this morning at Grandma's. Yukiko, Grandma and I came along to supervise and I have to say that I'm glad swimming lessons start again soon because the prospect of being at Bondi with two kids who are convinced they can swim plus an infant is frankly terrifying.
After lunch, our family headed to Nepean Sportsplex as Rachel and her family had invited Elizabeth and Matthew for their great annual Easter Egg hunt. I think it's safe to say that Elizabeth has been looking forward to this more than any other Easter related activity, even including getting to eat dessert again at the end of Lent.
The many coloured eggs scattered liberally across the forest floor always strikes me as quite magical and this year was no exception. Rachel made up a hilarious Easter Bunny song to distract Elizabeth from the hiding when we arrived at the destination slightly too early.
Rachel's family had relatives from California who were thrilled by all the snow still under the trees - actually it was snowing pretty enthusiastically during the hunt which I thought was very amusing. I always find snow at Easter rather unseasonal but it was pretty and definitely much nicer than mud! Elizabeth and Matthew really enjoyed looking for eggs in the snow.
Matthew wanted to hide "mo' mo' eggs in 'no" once we got home, but Elizabeth quickly convinced him that eating the chocolate would be pretty fun too.
You might also like
- Family Day
(0.407122)
- Strike Day
(0.404949)
- Party Day
(0.402823)
- Spartan Race
(0.397541)
- Calypso
(0.390566)
All