August 26, 2009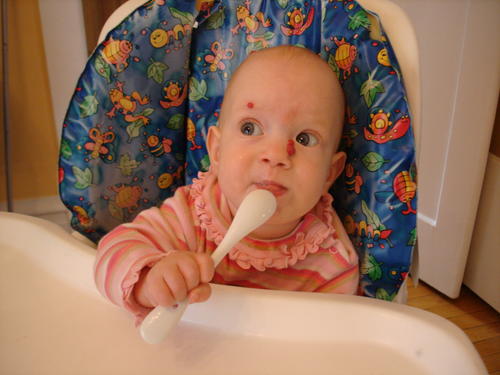 Has Elizabeth started solids yet? Well, "no" and "sort of" are both valid answers...
Since I am a celiac mom, I've spent a bunch of time trying to get a straight answer on when to start feeding Elizabeth wheat. Celiac disease only develops with exposure to gluten. The Canadian Celiac Association (CCA) has a great article that outlines the recommendations for starting gluten while breastfeeding as of 2004. In a nutshell, exclusive breastfeeding is recommended until five to six months of age and then continuing to breastfeed for at least one month after that.
The recommendations for when to start solids changed in 2001, from somewhere between 4-6 months to at least six months, and ideally between 9-12 months. I was initially confused since I did not understand why "normal" babies should wait until after six months to start solids, but "risk of celiac" babies should start ingesting gluten in small amounts by five months. After a more careful read of the available information, I believe that the recommendation is assuming that the mother is only planning to breastfeed for the first six months since exclusive breastfeeding among Canadian women for the full six months is significantly below that (One study of Southwestern Ontario moms found that exclusive breastfeeding dropped from 68% of infants at birth to 23% by six months!)
In the 2004 article summarizing the results of the Swedish study upon which the CCA recommendation is based comments that continuing to breastfeed until the infant is at least six months reduced the risk of Elizabeth developing celiac by 25%. Since her risk of developing celiac is not insignificant (~22%), I decided that it would be prudent to wait at least six months as recommended by Health Canada and the World Health Organization.
I also found the following summary of reasons to delay the introduction of solids quite compelling. In particular, given the high number of food allergies that run in my family, it seemed wise to avoid any solids until Elizabeth's gut is more developped. We think too that waiting longer than six months may be prudent since Elizabeth is on the small side.
Elizabeth hasn't been reading the same information I have though, and we were worried that she wouldn't want to wait. Grabbing for food, wanting to sit at the table, the development of a "pincer" grasp and biting everything in sight seemed to line up with guidelines for figuring out when your baby is ready for solids. I was quite happy when I happened across another helpful article talking about how to determine whether your baby is actually ready for solids, or whether she is actually showing that she is developmentally ready to participate in mealtimes. We'd been letting Elizabeth sit in her Bumbo and then later her high chair, but as an experiment we decided to give her a spoon.
It turns out that a spoon and a little "breastmilk soup" is all that Elizabeth needs to be happy at mealtimes! She's getting used to the feeling of the spoon in her mouth (and the idea that it brings food!). We've let her have a bit of water in a sippy cup as well, although she's not nearly as interested since Mom and Dad don't appear to use sippy cups...
I even went as far as freezing a little bit of milk and letting her try it out. My "momsicles" were a lot smaller than what is pictured though, which is good since Elizabeth took one bite and made the grumpiest face. If she could talk, she'd say "Eww - that's cold Mom!!".
1
On September 17, 2009 at 01:54 am
Stephanie
said:
Our littlest just turned 6 months old and we haven't yet "officially" started solids. I let her suck on whatever fruits or vegetables that I happen to be eating, but that's about it.



Soon, however, I know she'll be wanting more than that. I'm not sure I'm ready. Breastfeeding is so much easier... ;)
You might also like
- Social Distancing: Day 31
(0.420839)
- Natural Infant Hygiene
(0.416869)
- Karate Tournament
(0.4146)
- Healthy Girl
(0.414451)
- Home again, home again
(0.413594)
All