April 13, 2015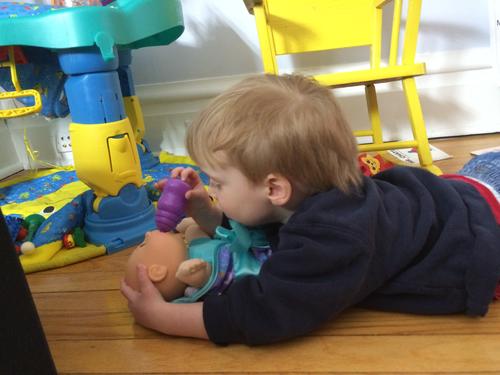 There's been a real increase in baby play since Evelyn came to visit us. Now, Evelyn didn't cry particularly while she was visiting, but Matthew's baby cries A LOT.
Then he has to cuddle it, feed it, strip it naked or throw it on the floor. As you do.
His baby doesn't seem to have a consistent name other than "Baby" but Matthew's quite possessive and doesn't like other kids to play with him. Baby is not very well-behaved and spends a lot of time peeing on Matthew. Or Mommy. Matthew thinks this is hilarious. Apparently Baby is potty training (the rocking chair has been declared a toilet), and spends much time going to the bathroom.
Baby is a Cabbage Patch doll and therefore has a signature on his bum. Matthew finds this extremely disturbing (and he does have a point!). He frequently tells me that someone was naughty for drawing on his doll, but I can tell that he's wondering whether this means he can get away with colouring on someone else's doll. I don't think he wants to draw on Baby though. All I can say is that whoever came up with the idea of putting writing on a doll's bum did not have a two year old...
1
On April 16, 2015 at 03:25 pm
Grandma H.
said:
this is hilarious!
You might also like
- Amelia 21 months
(0.385781)
- Flour letters
(0.374659)
- Kid Math
(0.369532)
- Amelia is 5 and a half
(0.368351)
- Trip to Wellesley
(0.366359)
All